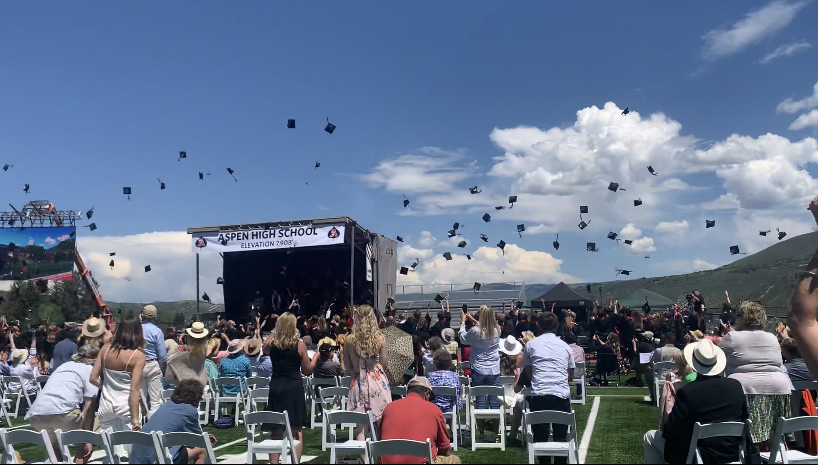 Lauren Kinney
On May 27, 2021, the ASD watched our seniors graduate. As 129 students enter life beyond high school they are filled with knowledge and high hopes for the future. 
Hannah Yeary, a graduate from AHS with an IB diploma, speaks about the opportunities she was offered here.
"The opportunity that I'm probably most grateful for was my CAS project. For this project, many different faculty members helped us create an online mental health fair which taught me a lot and enabled me to help others," Yeary said
James Kelly, a graduate of AHS, shares his appreciation for Experiential Education.
"Also had the opportunity to participate in Experiential Education which helped me meet new people and learn a variety of new skills." Kelly said 
Emily Kinney, a graduate and former editor-in-chief of The Skier Scribbler at AHS shines a light on the unique relationship between staff and students.
" I'm thankful for the close-knit relationship I have with my classmates and my teachers being that we are such a small school I think that's really part of the Aspen charm and school on the mountain you know, quintessential vibe," Kinney said
As Yeary leaves AHS, she reflects on big lessons she has learned living in such a unique place. 
"The most significant lesson that I have learned during my time at AHS is the importance of balance. Being located in such a beautiful place filled with hard-working people that also love to be active and explore the outdoors," Yeary said. "AHS taught me the importance of dedication with schoolwork, especially with the rigorous IB classes, while also maintaining a healthy balance of exercise, socialization, and fun." 
Finally, AHS has given students eccentric perceptions they will carry with them to college. Yeary tells us her biggest lessons from AHS. 
"The biggest lesson I have learned at AHS is that challenging yourself is important if you want to succeed. I will try to remember this lesson throughout college and into my career so I push myself more. *so I push myself to achieve more," Yeary said