iPhone X Release: Why Buy?
Hang on for a minute...we're trying to find some more stories you might like.
We all know the feeling of buying a new iPhone, but the excitement dies down shortly after a brand new and technologically advanced iPhone comes out months later. 10 years after the original iPhone revolutionized the world, Apple's latest product, the iPhone X, with a retail price of $1,149.00, is the most desired smartphone this holiday season.
Some of the fundamental aspects of this iPhone are different. Most notably, the home button and fingerprint sensor are gone, replaced by a new system of navigation gestures and Apple's new Face ID unlocking system. Therefore, the entire face of the phone is a screen, made of the most durable glass of all Apple products. Another exciting feature is the wireless charging system, making for no required cords that complicate charging a phone. Customers are raving about the quality of the camera, and how tight the lamination of the screen is, making for a brighter and more colorful appearance. In the past, there has been complaints about the zoom photos on iPhones always being blurry, but that has been fixed with the iPhone X's large camera lense and advanced portrait mode.
Apple's marketing techniques typically command their products attention and anticipation before they are released, but the hype command for the iPhone X has been above average for Apple. This because Apple intends for the iPhone X to not just be a new iPhone, but to represent a new generation of iPhone models.
For customers deciding whether to buy the new iPhone 8 or the iPhone X, A feature that separates the two is the advance camera of the X. The X is also much thinner than the 8, and its design resembles a phone that arrived early from the future.
A large complaint from students at AHS about the iPhone X is that there is nowhere to plug in an auxiliary cord, so they can't listen to music on their phones in the car. Students are easily attracted to the futuristic design, and the high camera quality, but those are some the components that set the iPhone X above other iPhone models.

About the Writer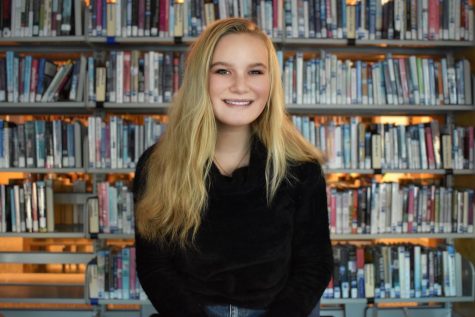 Olivia Zwieg, Staff Writer
Olivia is currently a junior at Aspen High School and has been writing for the Skier Scribbler since her sophomore year. This year Olivia is the Layout...