Steve Sandcrocker : Government Spy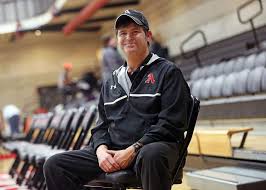 Advertisement
Hang on for a minute...we're trying to find some more stories you might like.
SATIRE–Many know about Steven Sandcrocker's profession as a business teacher at AHS, but did anyone know about his career as a secret agent? Yes, the rumors are true. The one and only "Sandman" works in the Kingsman agency. If you ever thought of Sandcrocker as a regular guy, think again. This guy lives life to the fullest.
"It's true. I have been working in the Kingsman industry for about six years now," Sandcrocker said. "I was inducted by my friend's brother, Derek, who had a cousin named Demarcus that worked there as well. I'm honestly surprised that no one figured it out quicker. I mean, there's a lot more to me than impressive business skills. It comes with a lot of perks too. I get my own dog, watches–which I haven't figured out to work yet–that can do a lot of cool stuff, some squirt guns and a pen that smells like lemons. It's a pretty sweet gig."
I'm proud to say that I was one of the first to figure this secret out. I was walking into Steves room one day to talk about finals and I smelled a very strong scent of lemon and laid eyes upon his friend's cousin, Demarcus, on a hologram. I left his room without him seeing me, but I later confronted him about it. I asked him how he had Demarcus on a hologram, and where I can get a lemon scented pen (their dank). But as any good secret agent would do, he lied right to my face and claimed that he had no idea what I was talking about.
"I honestly have no idea what you're talking about. I just got this pen from Costco," Sand said. "I would never lie to my favorite student, Gage. I am not a secret agent, but I am very similar to Austin Powers in ways."
Keep your eyes peeled and your sense of smell keen because you could one day, too, see his secret profession in action for yourself. Who knew that such an average guy like Sandcrocker, could take on such a daring job.