Not just a Regular Dad, A DJ Dad
Hang on for a minute...we're trying to find some more stories you might like.
AHS alumni, Michael Nakagawa, also known as DJ Naka G, has covered four Olympics while living out his dream as a disc jockey. For the 2018 Winter Olympics in PyeongChang, Korea, DJ Naka G helped local Olympians (Alex Ferreira and Torin Yater-Wallace) select music to represent them while they competed in the halfpipe. Ferreira, the 2013 Aspen graduate who won silver on Feb. 22 in the Olympic skier halfpipe event, picked the classic rock tune, Bruce Springsteen's "Born in the USA." Torin Yater-Wallace requested Rick Ross' "I'm a Boss," according to Nakagawa. For reigning Olympic champion David Wise's halfpipe gold medal run, he chose Macklemore's "I Ain't Gonna Die Tonight."
Nakagawa's job includes sitting with the announcers for the live events during the Olympics (he performs a similar role during the X Games) while helping to adjust the mood, through music, at the competition site. That can mean using a slow song or a pump up song to help match the events.
"People from all over the world watch  [the Olympics], and I had so many friends message me about how awesome it was to watch, and how they could hear the music I was playing," Nakagawa said. "That was really rewarding knowing that we helped put on a great event that so many people watched. It was a bonus having a fellow American, Shaun White, win gold (in snowboard halfpipe), but it was great watching all the athletes who I had watched compete all season do so well."
While DJ Naka G continues to live out his dream, his daughter, AHS Sophomore Jaelin Nakagawa, said she loves what her dad is pursuing.
"Having my dad as a DJ is quite special, actually. His musical sense really impacts me as a person," Nakagawa said. " It's inspiring to see him follow his passion."
DJ Naka G, said that he will always remember what it felt like DJing for the men's snowboard finals when White won a gold medal.
"There were so many emotions felt that day by the spectators and the athletes; Tension, excitement, disappointment, glory, and pride," Naka G said.
Naka G has worked Olympics and X Games events and sees a significant difference between the two.
"Representing your country is a huge honor for the athletes and so much more than a competition. It's such a hard process just getting to the Olympics, and since it only happens every four years, it can be such a mental game for athletes.There's such a small window to qualify and be at your best," he said.

About the Writer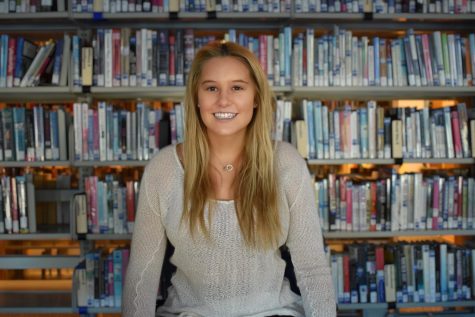 Madison Osberger-Low, Sports Editor
Madison Osberger-Low is a senior at AHS and the Sports Editor for the Skier Scribbler. This is her fourth year writing for the paper and she hopes to...