Madison Beer Goes Strong on Her Debut Album 'As She Pleases'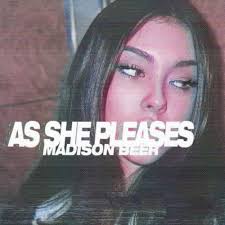 Advertisement
Hang on for a minute...we're trying to find some more stories you might like.
What are you doing when you are a teenager? You probably haven't released a seven song LP (long playing extended play album) to a fan base that is 10 million strong. 18 year old Madison Beer was discovered by Justin Bieber on Youtube when she was just 13 years old, signing her to Island Records.
Beer's first single called 'Melodies' was released in 2013. From her first single Melodies, which was pure pop at 13, Beer, almost 19, has emerged as an R&B pop singer. Beer grew up in New York, but has been living in Los Angeles since she was 14. Beer just released her first LP on the 2nd of February, featuring her summer hit "Dead". Beer has been working on releasing an album since she was first signed to a label at 13. It took her five and a half years to find something she was truly proud of and embodied her style.  
As Beer grows up, so is her voice. She has a more mature sound than from when she released her first single 'Melodies'. Beer has shown through her big hit 'Dead' that she has transitioned into a mature artist. 'Dead' features the lyrics, "You say you can't live without me. So why aren't you dead yet?" She addresses the empty words from an ex with the brutal truth. Her clever word choice turns clichés away as she claps back at an ex. This song is different than a traditional summer song, but it definitely has a lively, danceable beat. Beer's lyricism is truly remarkable as she makes a proud statement to an ex.
The next song on the LP, 'Fools', has an upbeat tempo and you can't help but sing along. 'Fools' shows Beer's wide vocal range and ability to create clever lyrics. Beer is credited as a writer for all the songs on the LP. The lyrics, "Don't you know baby, only fools stick around when the love is gone." These lyrics present the utmost truth about complicated relationships.. Beer's intelligent and unique way to convey her ideas is one of the main reasons she is so strong as an artist.  
The third track on the LP, styled 'HeartLess', features a more dark and broadening twist. Beer sings about how she should use her heartless and avoid the pain of getting her heartbroken. "One, two, three, four, five, too many times. I've been down this road too many nights, so next time…" In these lyrics, Beer confesses to the repeating moments in her life when she gets involved in relationships. 'HeartLess' is definitely a song that can cause potential tears.
'Tyler Durden' is a sweet ballad, with soft strings of the guitar.  She sings, "I'm in love with Tyler Durden. That's why this shit ain't ever working for me. I'm in love with a fantasy." Referencing the main character of the movie 'Fight Club', Beer implies her search for love is vital, even though the protagonist, Tyler Durden, is fictional. She proves that her lyrical concepts are to be taken seriously.
'Home With You' is the major hit on the LP. The lyrics are filled with attitude. She states, "I ain't got no time for no games. Tell me what you like but it's never gon' change. So you do what you wan-wanna do and I'm not going home with you, home with you." This song continues the 'As She Pleases' theme and gives a true rebel vibe.
The 50s feel 'Teenager in Love', has a similar vibe to Ariana Grande. It bears a youthfulness to the LP and reminds listeners of Beer's age. "You make me feel like a teenager in love
And you make me feel like I'll be forever young." Beer's soft crooning over a piano produces a nostalgia over falling in love for the first time. Her audience loves this charming tune.
Closing the LP with 'Say It to My Face', it shows that it's the ultimate girl anthem on the LP. Beer displays her intense vocal powers with a catchy beat. "Tell me, what's the situation? I've been rackin' on my brain. Just want some answers if I ask you. But I know you'll never say it to my face, say it to my face." Beer's intense lyric choice and her ability to entice the audience are generated through this song. Musically produced by Fred Ball, who has worked with Rihanna, Little Mix, and Jessie Ware, this song is the most original piece on the LP.
If you are looking for a strong, feminist voice to add to your playlist, Madison Beer is your girl. Beer has proven over and over again that she has the potential to be a superstar. An amazing voice, lyrical intimacy, and her commitment to pop music have created this LP. Her hard work has paid off and this LP is just stunning.
Stream Madison Beer's LP here: https://soundcloud.com/madisonbeer/sets/as-she-pleases   

About the Writer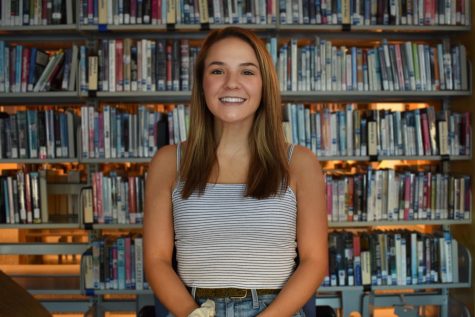 Bella Hoffman, Staff Writer
Bella is a junior at AHS and this is her second year as a staff writer for the Skier Scribbler. Bella is also apart of the AHS Dance Team and spends her...