Top 10 New TV Shows to Watch This Fall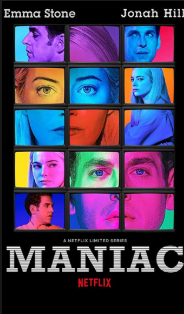 Advertisement
Hang on for a minute...we're trying to find some more stories you might like.
   It's finally autumn and the cold weather is here. The leaves are changing, the days growing shorter and the air is getting colder. This means it's time to curl up with a blanket and some hot cocoa and binge-watch your favorite TV shows. Below is a list of the top 10 new TV shows to watch this fall to get you in the holiday spirit.
1. Maniac – Starring Emma Stone and Jonah Hill, this Sci-Fi comedy follows the path of two strangers who are both dealing with their own personal issues. They decide to participate in a mysterious pharmaceutical trial and the outcome is not what they expected. This show is currently streaming on Netflix.
2. Homecoming – This psychological thriller follows a woman named Heidi (played by Julia Roberts) and her journey as a caseworker who helps soldiers transition into civilian life. The show mainly focuses on her life after she stopped working at this facility and the story behind her decision to leave. The first episode airs on Friday, November 2 and will be available on Amazon Prime Video.
3. You – Starring Penn Badgley and Elizabeth Lail this series follows the manager of a bookstore who becomes obsessed with a young female writer after they unexpectedly cross paths. A small, awkward crush turns into a complete infatuation with this woman and he will go to any lengths to get close to her. Episodes air every Sunday at 8 pm on Lifetime.
4. A Million Little Things – This heartfelt story follows the lives of a group of friends after they learn their friend has committed suicide. Throughout the show, each character has to grapple with the grief of losing one of their closest companions. Episodes air every Wednesday on Freeform.
5. Manifest – Starring Melissa Roxburgh and Josh Dallas, this mystery series focuses on a group of people who had been on vacation and had been flying home when their plane experienced some turbulence. Soon after the plane lands the passengers come to discover that five years have gone while no time has passed for them. Episodes air every Monday on NBC.
6. The Chilling Adventures of Sabrina – This fantasy series based of The Archie Comics explores the adventures of a young girl about to turn sixteen years old and the difficult decisions she is forced to make. Starring Kiernan Shipka (Sabrina) and Ross Lynch we learn more about Sabrina's internal struggle of whether to choose the witch or human world. Episodes are now streaming on Netflix.
7. Forever – This feel-good series details the story of a married couple, Oscar and June (played by Fred Armisen and Maya Rudolph), who live in a stereotypical suburban neighborhood in California. When persuaded into going on a ski trip instead of the annual trip to their cabin their life gets turned upside down and they begin to question their marriage. This series is available on Amazon Video
8. The First – This series stars Sean Penn and Natascha McElhone and is set a few years in the future. The show follows a group of astronauts who are trying to become the first astronauts to set foot on Mars and their struggles with venturing into a dangerous and uncharted territory. Episodes are now available on Hulu.
9. The Cool Kids – Starring Leslie Jordan this comedy series focuses on a rowdy group of friends who live in a retirement community together. These people are willing to break any rules because what do they have to lose? They all come up with crazy schemes and are brought together by the shared belief that life isn't over yet. This series is now available on Hulu.
10. Charmed – Following the story of three sisters who lose their mother, this series focuses on each one of them and how they deal with the emotional stress the recent events. During this, the sisters start to develop unexplained new abilities. Episodes air every Sunday on The CW.