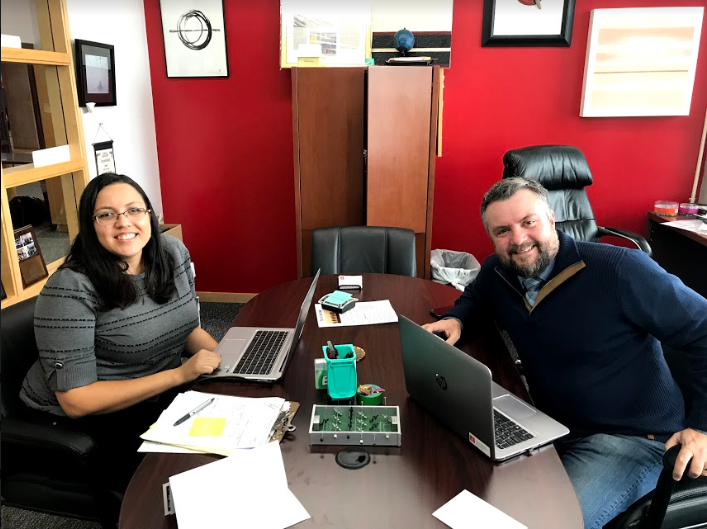 Photo by Katelyn O'Callaghan
It was Lunch time. The candidates for the new AHS  Principal position were strutting into the lunchroom in fancy business attire, hoping to make a good impression. All the candidates sat with board members and higher officials, except one, Tharyn Mulberry. Instead, he sat with a group of students. In the end, Mulberry was hired as principal in the spring of 2015.

AHS principal Tharyn Mulberry breaks the mold of the standard principal. He cultivates a culture of success for his students and staff and is more than willing to help them in any way to achieve it. His values of hard-work and positivity have played a huge role in improving the overall quality of all the schools he has worked at.

Mulberry's unique career has helped shape him into the Principal he is today. His first job was teaching at an alternative school for adjudicated students and teen moms. His second teaching assignment was  IB world history teacher. From there he transitioned from teaching to an assistant principal at Heaton Middle School in Pueblo. He then became a principal, first, at South High and then at Centennial High School, both in Pueblo before coming to AHS.

"Having worked in all these various places has given me a lot of perspective," Mulberry said. "It really helped me define how I wanted to be as an educator and how I wanted to conduct a school."

As a child, Mulberry thrived in school and was very fond of it. It was a way for him to escape conflict in his life.

"I always had a great experience in school. I'm not a kid that came from a primrose path, there was a lot of issues at home, and when I was in school, it was always like a haven for me. So I've always viewed school as a great thing." said Mulberry," It was a way to get out of the turmoil that was in my life. And I've always remembered that that's why I've always had this deep love and abiding respect for teachers and school."

Mulberry goes above and beyond for his students and staff. He was recently recognized for his achievements on November 8th when he received the Brain Maccartney Service to Centennial inductee Hall of Fame Award. It is only given to principals who have done a great service to the school.
The award was given to Mulberry because he created the Advanced Placement program (AP) at Centennial High School in Pueblo. It increased enrollment and left the school with one of the most robust academic programs Pueblo.  
   Principal Secretary at Centennial, Pam Hough, who worked with Tharyn for the entirety of his time there has seen the effects of the program.
"Before he came it was a little bit chaotic because the two principles we had before didn't have a lot of vision and so when Tharyn came he definitely brought some vision, and he really changed the culture and the climate of the school," said Hough. "Students were more motivated, and the schools moral was and still is at an all-time high because of the program. "

His attitude towards students builds an atmosphere of trust; he treats students with respect and humility. He instills his hardworking values and determination into the students.
Receptionist Daniell Pratt, who works closely with Mulberry and attended South High School while he was principal, has experienced his leadership in multiple settings.

"He was a great principle. He had a great reputation and made the overall quality of the school skyrocket. He was one of the only principals I have seen really make a connection with students. He is hardworking and fair, and I really like that and respect that. He goes the extra mile with everything he does."

The level of achievement Mulberry has reached is mostly due to his philosophies as an educator. He puts everyone on an equal level and believes that no matter the circumstance, every student can achieve great success.

"I believe in kids. I think kids rise to the level of expectation. They always do so if you think kids are not going to be great they won't be. If you think kids are going to be great, they will be. I've always focused on that end of education," said Mulberry. "I know that if you push kids and have high expectations whatever they want to do, they will be able to do it. I've always strived to be that principle that aspires to bring out the great things that kids want to accomplish and help them to do it. I don't care where the kid came from; I don't care whether they are rich or poor, whatever their situation is, they can and will be successful."
Award Ceremony: https://www.youtube.com/watch?v=Pi-OQc5XUaY