Aspen High's Fall Play Production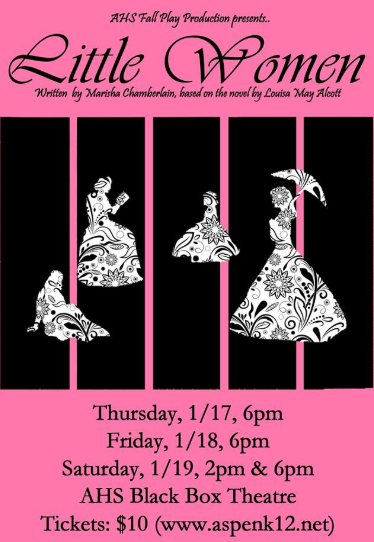 The Fall Play Production has been a part of AHS tradition for years, and each year the show seems to be more magical than the last. Unfortunately, the play was postponed due to the failure to decide which production to put on. The performance was initially scheduled for the week after Thanksgiving and is now going to be the week of January 17th through the 19th. The play this year is Little Women, which is based on a novel written by Louisa May Alcott in the late 1860s. The book tells the story of four sisters, and their mother who is living in Massachusetts while their father is off serving in the Civil War.
AHS Theater Director Logan Carter, who has been teaching at AHS since 2013, is very excited about the opening of the play.
"I'm very excited. I love doing period pieces. It is a lot of fun and gives these actors a huge opportunity to work on acting, as the language is different than our contemporary speech," Carter said.
As all of the parents and faculty are patiently awaiting the arrival of the fall play, the actors and teachers are working hard at putting on a beautiful production.
AHS freshman Garrett Greene has been a part of ASD's theatre productions since he was in elementary school. He is very excited to perform in Little Women and be a part of another ASD show.
"It is a wonderful story that covers love, loss, and what it's like being a kid. I am very excited to perform in this play because it is a challenge to act in a completely different time period. I am learning new things every day about my character," Greene said.
Because the play was postponed, the students have had more time to strengthen their relationships with the characters, and all of them are very excited to show off their hard work.
"I like seeing the actors go deeper into these roles and strengthen their relationships on and off the stage. [I am] proud of these kids and all they've accomplished," Carter said.