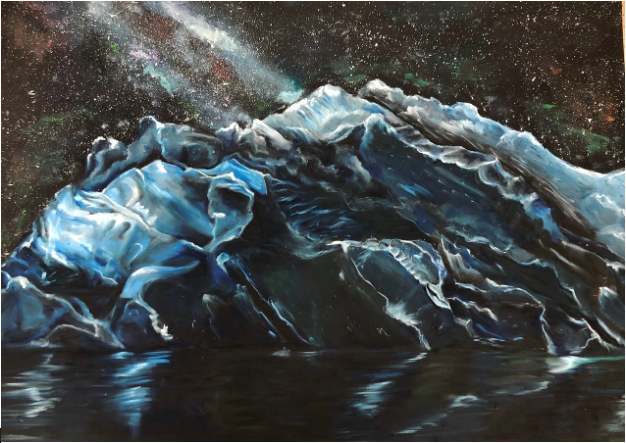 Photo courtesy of Estelle Sweeney
May's artist of the month is…*drum roll please*…Estelle Sweeney.
Sweeney is an IB art student at Aspen High School known for her unique pieces which are mostly inspired by her time in the outdoors. As she is an avid traveler and ski racer, she gains most of her inspiration from the world around her and her desire to advocate for it.
Some of Sweeney's passions include skiing, traveling, surfing, diving, and fishing. Her pieces are very reflective of these passions. She is inspired by the places she travels to and most of her work represents what she loves. Even with specific assignments as an IB art student, she still manages to find a way to incorporate her love and belief in every piece.
While Sweeney's work is almost always centered around her passions, she likes to switch up her mediums depending on the type of creation. She often uses oil pastels when working on a piece involving water and movement. However, she is also very comfortable with acrylic and digital platforms.
Out of all her work, one of her favorite pieces is an oil pastel painting of an iceberg titled "Melted". Sweeney doesn't love this piece solely because of the way it looks, but because of the deeper meaning.
"I really like this piece because of the background story, our assignment was "melted" and I think an iceberg fits perfectly for this assignment," Sweeney said. "The piece is about the melting icebergs and climate change."
Sweeney uses "Melted" to advocate for climate change and the global problem of melting icebergs. To her, the hidden meaning of each piece is what makes and inspires the piece, not just the beautiful design