Climate grief support group counsels community
A newfound recognition for climate grief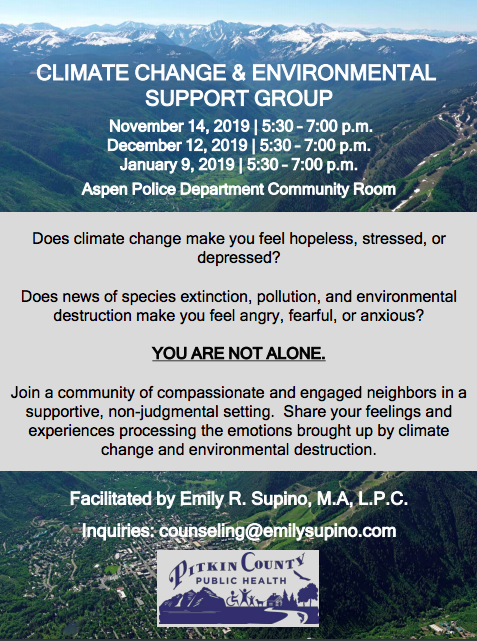 Starting this week, Aspen community members, Phillip and Emily Supino, will be conducting a free support group for people experiencing Climate Grief. The group is facilitated by Mrs. Supino, who is a professional guidance counselor and is licensed to provide constructive help to community members. Meetings will take place on the second Thursday of every month from 5:30 pm- 7:00 pm in the Aspen Police Department Community Room.
The term "Climate Grief" has recently become popular in the media after Greta Thunberg, a Swedish youth climate change activist, coined the term. Climate Grief gives a name to the overwhelming stress about the impending doom of the consequences of climate change, and are therefore experiencing depression and anxiety because of it. It often comes from viewing the impacts of climate change through personal experience or through the news and classroom environments.
The group's founders, Emily and Phillip Supino, decided that the community had a need for the group after they attended a 2019 Aspen Ideas Health session on climate change and mental health.
"We saw community members, ourselves included, experiencing grief, anxiety, anger, and fear stemming from these topics [of climate change]. We wanted to help our community and our planet by offering mental health services, free of charge, to those in our community who may need it," Mr. Supino said. "We will create a safe, comfortable, professionally facilitated setting for community members experiencing mental health impacts from climate change and environmental destruction to share their experiences, discuss their feelings, and hear about strategies for how best to process them."
Many students in the Aspen community have demonstrated their discontent towards climate change. In September, over a hundred Aspen High School students participated in a Climate Strike, where they left school and walked to town in an attempt to get the city government's attention. The students spoke with Aspen government leaders, including Mayor Torre.
"We hope that the power of their words and feelings make an impact on older residents who may not understand just how defeating and depressing it can be for the youth to grow up questioning the future of our planet and their experience on it. We also hope that people in the community make connections through this group that leads to more action in the right direction on these topics," Mr. Supino said.
About the Writer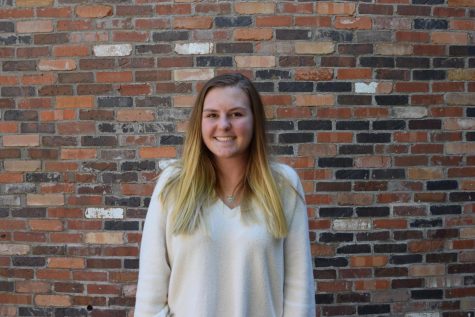 Tessa Guthrie, Design Editor
Tessa is a junior at AHS and is the design editor for The Skier Scribbler and the Editor-in-chief of the AHS yearbook. She plays golf, loves art and the...