Infinity Mirror Aspen Art Museum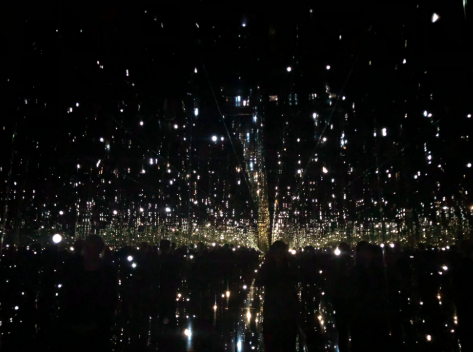 This year from December 20th to May 10th, the Aspen Art Museum brought Yayoi Kusama's work to the community. On the second floor of the museum, next to the elevator Kusama's "Where the Lights in My Heart Go" (2016) installation can be viewed by all. This exhibit is part of her Infinity Room series. The simple design of the dark room of mirrors, but the incredible effects of the installation when you turn on a flashlight attract many from all over the world. Although visitors only get 90 seconds inside the room, the endless feel of the lights seems to make the time feel longer.
Kusama is a well known, contemporary artist who works in the areas of sculpture, installation, performance, and film. Her versatile work is known around the world. Kusama has had shows in some of the most elite museums in the United States, such as MOMA (Museum of Modern Art) in New York City and the Baltimore Museum of Art. The opening night and weeks after have been successful due to a combination of local art lovers and visitors in town for the holidays.
Flora Marolt an AHS Sophomore, has yet to explore the Mirror room in the art museum. "I tried going there with my friends, but the line was so long. So we thought we should come back once everyone leaves town. I really want to see it though, people have been saying it's cool," Marolt said.
Maria Gold, from LA who is visiting Aspen for the first time for the holidays, got a chance to enjoy the installation first hand."The way that the room is designed is so basic you would never expect that it would create the effect that it does. That's why I think people are so attracted to it, because of the simplicity combined with the amazing light display, it's so unique," Gold said.
Karen Galvan an AHS Senior, has gone in the mirror room more than once. "I have been in twice and it was still cool the second time around. Normally seeing something two times is boring but I had fun both times I went in." Galvan stated.