Scholastic Art and Writing Competition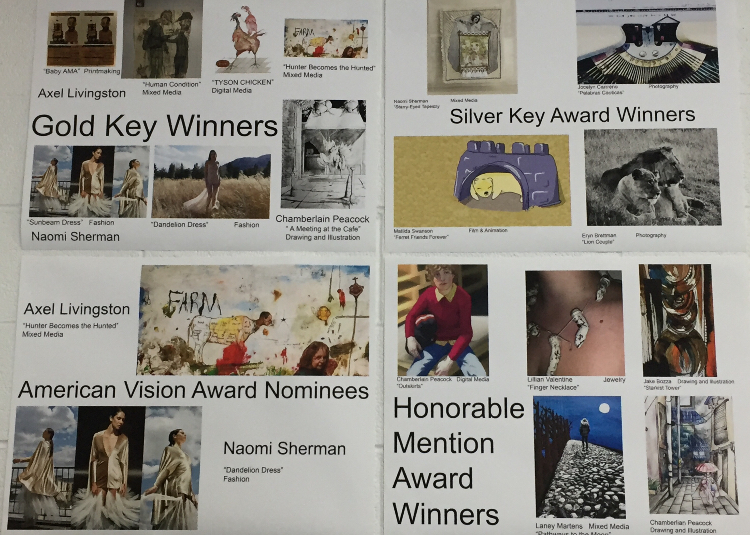 Five AHS students were nominated to have their art displayed at the Denver History of Colorado center, Colleen Fanning Art Advisory's Chancery Building and the Sie Center. AHS seniors, Axel Livingston and Naomi Sherman won the Gold Key award and their art will be displayed in Carnegie Hall.
The Scholastic Art and Writing Competition is a national competition where students can submit their art work and receive recognition for their artistic abilities. The AHS Visual Arts Department submitted 145 pieces of art to the Scholastic Art and Writing Competition. Throughout the state of Colorado, there were a total of 6,000 submitted art pieces–including 2,200 students who submitted their art to the competition. AHS won a total of 18 awards, two of which were nominated for the National American Visions Awards–Naomi Sherman and Axel Livingston. The Gold Key winners/National American Vision Awards winners, will go to the National Scholastic Competition, adjudicated on March 16. The National Winners will have their pieces displayed at Carnegie Hall in New York in June. The students can be nominated for either Gold key, Silver key, or Honorable mentions.
Stephanie Nixon, the AHS art teacher who has been teaching at the AHS for 12 years, assisted the students throughout their process of submitting their art pieces to the competition.
"A lot of the work that got submitted for this classic competition has been completed probably in the last year or two. Some of the work was completed last year, but most of it was completed in class. Some were completed in summer programs that the kids go to which is really great, because it kind of shows kids that if you go to a college summer program, it really helps," Nixon said.
Chamberlain Peacock, a senior at AHS, submitted three art pieces–her art pieces won one gold key and two honorable mentions. She has not competed in past years–Peacock has been doing art for as long as she remembers, though she started taking it seriously in Freshman year.
"I tend to do a more character realism sense. That's what I find more comfortable. I like to kind of stay grounded and real with realism, but I also like to twist in such a way that it seems more fantastical and abstract so I kind of stay in that nice, easy balance," Peacock said.
Tilly Swanson, a junior, submitted a ten-second animation to the competition–winning her a silver key. Swanson has access to an animation studio at the college she was taking classes at. In total, it took her 50-60 hours to complete the animation.
"I knew I needed to come up with a story that lasted at least ten seconds, and more importantly, was something I could draw a hundred times over. I decided ferrets would be my character, and in looking up photos I found ferrets lying in the shape of a heart, and I made a story about that," Swanson said.
Everyone who participated in the competition will get their art displayed in Denver at the History of Colorado from February 21-March 28. The Gold Key winners–Naomi Sherman and Axel Livingston–will then be judged for National American Visions Awards. If they pass, they will get their art displayed in Carnegie Hall in New york. The creators will be invited to go to the reception held in New york.
Naomi Sherman, a senior, has been creating art since she was a baby. Her grandma is an art teacher, so Sherman spent a lot of time in her studio trying the various art supplies her grandma had. She submitted three pieces to the competition, "Sunbeam Dress," "Dandelion Dress," and "Starry-Eyed Tapestry." Two of which were nominated for Gold key. Sherman was also nominated for National American Vision Awards."Sunbeam Dress" was made out of a tan velvet plush material, white mesh, crystal string, and white silk rope. For "Dandelion Dress" Sherman used a pink-tan mesh and four different colored strings to make the dandelions. As for "Starry-Eyed Tapestry" Sherman was inspired by her love for Harajuku Girls.
"The initial thought behind all of my art pieces is fear. I know my artwork looks very soft, posh and airy, but in all reality, it was very hard for me to develop my pieces because I felt like I had to fit an aesthetic," Sherman said.