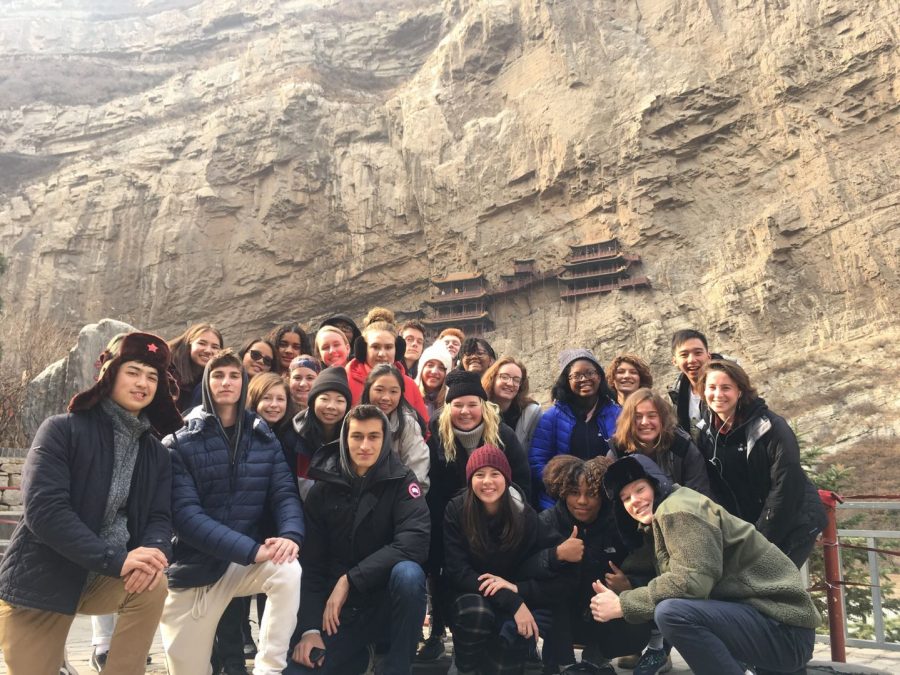 Photo courtesy of Gao Laoshi (高老师)
One of the most important Chinese holidays is Chun Jie (春节), a holiday when families go back to their hometowns and reconnect with loved ones to spend Chinese New Year together. Chun Jie is focused around the Lunar New Year and families take two weeks off school and work to celebrate. This year, Chun Jie was on January 25th, coincidentally when the COVID-19 outbreak began to run its course.
This year, I was studying abroad in Beijing, the capital of China and was at my host family's grandfather's house when the outbreak got bad. It was the day after Chun Jie when students began to wonder if they would be sent home and within three days of chaos, my classmates and I were back in our respective hometowns in America. Carly Nabinger, one of the two sophomores participating in the study abroad, hadn't gone to visit her extended host family and was in the center of Beijing when the news that we had to go home broke.
"My first reaction to being sent home all of a sudden was just pure shock because everything was happening too fast to process. At the time, all we knew about COVID-19 was that it was 'like the flu'. What hurt the most is that we felt a sense of false hope. Selfishly, I couldn't stop thinking about how unfair the world around us was while it spun out of control. Why us? Why this year? What now?" Nabinger said.
Most kids felt like leaving China was like leaving unfinished business behind. None of us were able to say goodbye since we were dispersed around the country. Our mantra quickly became: "Be good. Be strong," after our resident director signed off an email with the four empowering words. Zoe Feldshon, a junior from Minnesota, was particularly impacted by the rushed departure.
"I feel like we were hit harder by culture shock [of returning to America] which made the move a lot harder. We weren't mentally ready to come back and so coming back hurt a whole lot more," Feldshon said. "I personally feel like if we had been even given a week notice it would have changed how I came back home because I came back home not really knowing what to do with myself because I had had no warning."
MaryQuinn Mills, a senior from Georgia, had made particularly strong connections with locals in Beijing, as well as students from the school that our program was attached to.
" I'm not trying to belittle the experiences of regular seniors in America," Mills said. "But it's a different thing when you unexpectedly can't see your classmate that lives 15 minutes away for the rest of the year versus unexpectedly being sent home on a plane hundreds and thousands of miles away from your classmates, teachers, friends and second family for maybe your whole life… both are hurtful, but ours has a different impact."
After coming home and two weeks of quarantine, our school gave students the option to continue with the program online in hopes of going to the Italy campus, or return to the American sending school. A little over half of the kids opted to stay with the program and completed a month of online school.
Obviously, due to COVID-19 migrating to Italy, students weren't allowed to switch campuses, but the program left it to the last minute to cancel their plans. I had flown to New York to get on the administrative lead group flight to Italy. Anneka Le, a senior hailing from Hershey, Pennsylvania, had also flown to New York to catch the group flight.
"I was mostly disappointed and was immediately thinking: what now? In a single email, I saw not only an experience taken away but also a very enriching education." Le said.
Once Italy was canceled, the program was full of uncertain teenagers who were faced with, yet another, decision: Online school through the abroad program or return to American sending school?
Most kids chose to go back to their sending school, myself included, but the decision was almost meaningless since COVID-19 then came to Aspen as well, and schools closed down anyway. It's been a long three months for my classmates and me, but some of us have chosen to continue with Chinese Language classes, which helps keep a connection, however weak, to Beijing.
Even though the year was cut short and students are approaching the three-month marker of their quarantine, we've kept a positive mindset, knowing that we may meet up again one day and get to say our proper goodbyes.