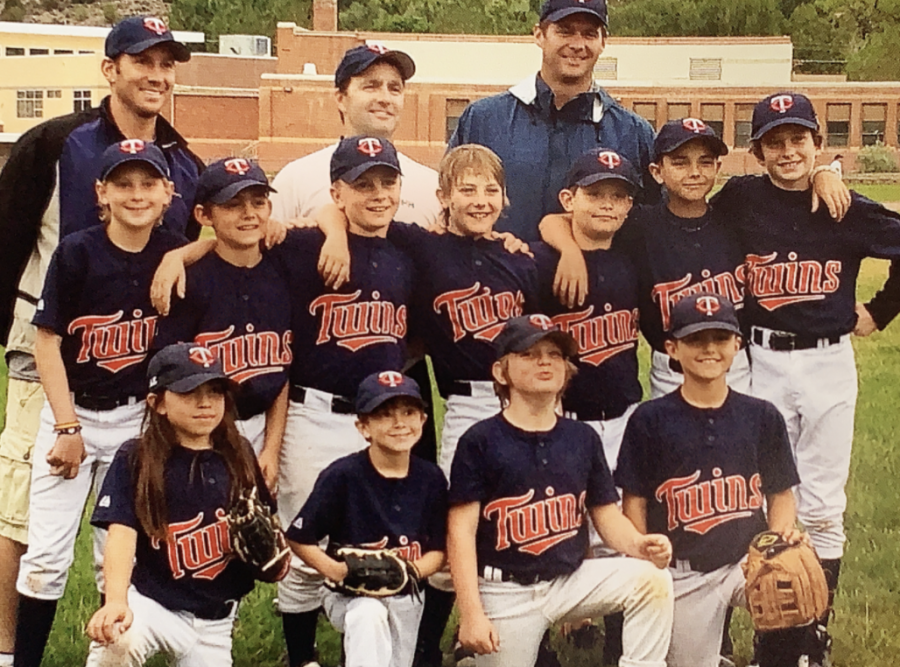 Photo courtesy of Mac Lampe
Due to the cancellation of spring sports, seniors who participate in boy's and women's lacrosse, women's soccer, women's golf, track and field, baseball, and women's tennis are missing out on their Senior Night. During Senior Night, players, coaches, and parents come together to celebrate the accomplishments of those who, in some cases, have played on that team for the past four years. The Skier Scribbler, in collaboration with the spring sports coaches, is highlighting the seniors from each team in order to give them the proper recognition for their hard work and dedication over the years.
The Aspen High School baseball team had an astounding thirteen seniors this spring, six of which played baseball for the first time this season. The coaches were looking forward to seeing what they could contribute to the team. According to coaches Dave Fuentes and Brian Bradford, the returning athletes were expected to contribute significantly to the varsity team this season. Overall, the AHS baseball team was expecting great things from this group of athletes based on the effort that they saw in preseason workouts.
Fuentes and Bradford wish luck to all of the seniors in their future plans and sincerely miss seeing them compete in Aspen for their final season. Coaches Fuentes and Bradford spoke out about this senior class.
"Tenjing, Tatum, Will, and Cole were strong contributors at the JV level and had varsity experience last season, and all were going to compete for key playing time at the varsity level this season. Jack, Jon, and Connor were expected to be workhorses for us on the mound and at the plate this year, and we were depending on them to provide leadership to the rest of the team both on and off the field," Fuentes and Bradford said.
Jack Pevny:


Jack would like to thank Coach Dave Fuentes, Coach Brian Bradford, and Coach Joey Dzeidzic for sticking with his team the past four years through the really good and the really bad. He would also like to thank his parents for their unconditional support in his baseball career. His favorite memories were hanging out with the older kids and getting a chance to play freshman year, as well as playing with Jon because they grew up playing with each other every year, so Jack thought it was cool to see that go into high school. Being a part of the AHS baseball team means a lot to Jack because he grew up watching the high school baseball team, and he remembers his best friends being on his baseball team, so he automatically assumed that they would play all of high school, which they did. Next year, Jack will be attending the University of Oklahoma next year to study international business and aeronautical engineering.
Connor Chesner:

Connor would like to thank his family, coaches, and teammates. His favorite memories from baseball have been having fun on bus rides, overnight trips, and having fun with the boys. Connor has always enjoyed playing baseball and he says that this team and group of guys are some of the best people to be around. Next year, Connor is playing junior hockey in Minnesota and deferring from the College of the Holy Cross.
Tenjing Sherpa:
Tenjing would like to thank his parents and teammates for being very supportive of him and the team. Being on the team and playing for Aspen was Tenjing's favorite memory throughout the years. For Tenjing, being on this team represents that you show your full respect and love for the sport. Next year he plans on going to college and possibly playing for their baseball team.
Tatum Diemer:
Tatum would like to thank all the coaches and the effort they have put in over the years to make each season the best it could possibly be. Over the past four years, he has really enjoyed being part of the team, playing with a great group of guys, and simply playing. Tatum believes that overall, the team is really great and supportive and really fun to be a part of. He wishes that the season hadn't been cut short. Next year, Tatum will be attending Santa Clara University to study business and pre-med.
William Lanter:
Will wants to thank all of his coaches for making baseball the past four years possible. Will's favorite memory over the years was getting to the second round of playoffs in his sophomore year. Will believes that being a part of the Aspen baseball team gives everyone a team a second family and a fun sport to play with each other. Will is attending Louisiana State University next year to study engineering.
Matthew Keating:
Matthew wants to thank all of his coaches for putting in the hard work to lead their team to success. He only played baseball this year, but Matthew had fun just being a part of the team and he really enjoyed playing baseball. For Matthew, being a part of the team felt like being a part of another family. He liked working hard to get better and better every practice. Next year, Matthew plans on taking a gap year to focus on working and a plan for his career.
Ella Trane:
Ella would like to thank her parents for supporting her on this crazy decision to play baseball during her senior year. She would like to thank her teammates for letting her join the team, and she would also like to thank her new coaches that gave her a chance to play for them. Ella would especially like to thank Dave Fuentes for introducing her to softball and then baseball and believing that she could be as good as one of the boys! Ella would also like to thank Celty for getting her through all of her injuries. This was Ella's first year on the baseball team, and she is very sad that it had to end early, but so far her favorite memory was playing Basalt. Ella explained how she went up to bat and hit it, and when she was playing second base, she made a good play. For Ella, being a part of this team meant a lot because it's not normal to have a girl on the baseball team. The team made her feel welcomed and part of the team which she was really nervous about in the beginning. Next year, Ella will be attending the College of Wooster to major in chemistry while also playing basketball.
Mac Lampe:
Mac would like to thank J Snigs. This year would've been his first year playing high school baseball. To him, being a part of this team meant contributing to the goal of the group in whatever way possible. Next year, Mac plans on entering the workforce.
Sloan Hamill:
This was Sloan's first year playing baseball. His favorite part was being able to hang out with his friends. Sloan said that this team gave him three more days of high school sports which was three days more than what he needed. Sloan will be attending Southern Methodist University next year.
*We reached out to all seniors on the team numerous times but were unable to get responses from George Ghalis, John Haisfeild, Cole Sauer, and Max Ufkes.