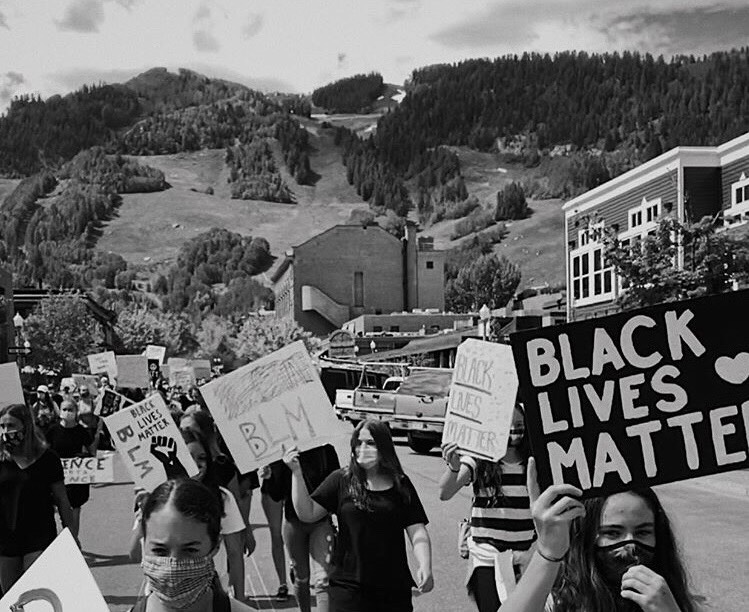 Photo courtesy of Smith Agley
"Black lives matter….say their names…I can't breathe," chanted protestors while marching the streets of Aspen to protest police brutality and support the Black Lives Matter Movement.
On June 3rd, from 10 am to 12 pm, Aspen locals gathered at Wagner Park to protest police brutality and to support the Black Lives Matter movement. Before the marching, protestors laid face down on the ground with their hands behind their back for eight minutes and 46 seconds reciting, "I can't breathe." The act was in honor of George Floyd, an African-American man who was pinned to the ground by four police officers and murdered by officer Derek Chauvin kneeling on his neck for eight minutes and 46 seconds.
A protestor, Olivia Plummer, attended in support of the Black Lives Matter Movement and believes that police brutality is intolerable.
"I support the Black Lives Matter Movement, and I protested in solidarity. The atrocities that their community has gone through are unacceptable," Plummer said. "I want them to know that they are not alone and that the crimes committed against them need to stop. Everyone should have equal rights. Black people should not be treated like their skin color is a weapon."
14-year-old protestor, Rylee Smith, felt supported by the Aspen community while protesting.
"I feel like we were making a statement. Having everyone cheer for us made me feel like, as a community, we support each other and are all in this together," Smith said.
Grace Woods, another participant, recognizes the injustice and inequality black people experience at the hands of the police and advocates for change.
"If a black person is arrested, they are beaten or killed, but when a white person shoots up a school or commits mass murder, they are arrested peacefully. The Charleston shooter was taken to Burger King after brutally murdering black people. George Floyd suffocated to death for eight minutes and 46 seconds for forgery. This cannot be tolerated. We need change," Woods said.
While protestors believe there are still protests to come and a considerable amount of systematic changes that need implementing, the younger generations believe they will make an impact and accomplish equality.
"We will be the generation of change. Our generation is so powerful. You can't stop us. Sure, you can beat us, shoot at us, tear gas and pepper spray us, but that's not going to stop us because we are passionate and believe in justice for all. We have the right to protest and speak out, and we will not be silenced," Woods stated.
*Here are numerous petitions, donation funds, and educational resources. Please sign the petitions, donate if possible, and educate yourself on black history and the current issues facing the black community.*