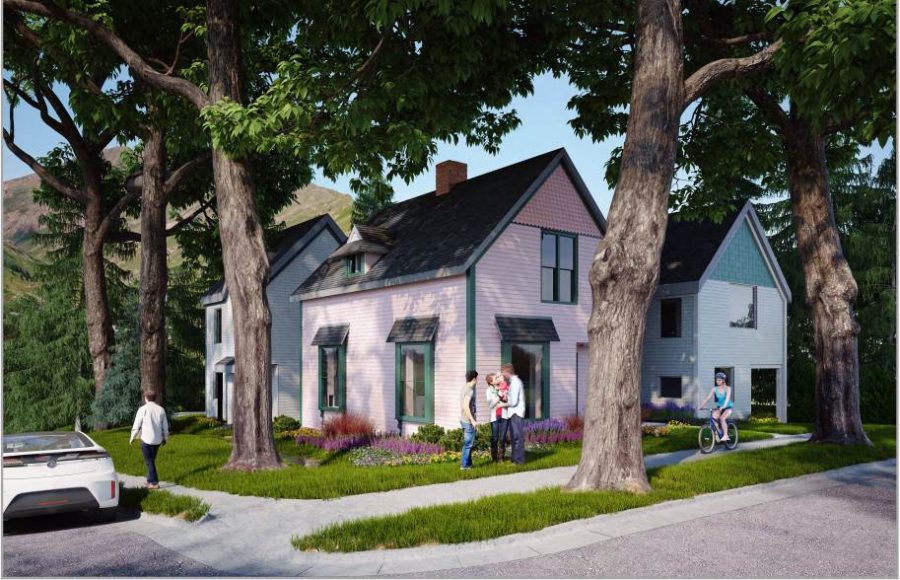 Photo courtesy of the City of Aspen
G.F. Woods Construction is currently building a new affordable housing complex on West Hallam Street. The project will consist of three buildings with about 5,800 sq ft total, and will feature seven size varying units. Part of the housing units will be in the historic house and former restaurant, Poppies, and the other in new construction.
Aspen has a unique affordable housing system created in order to serve the workers of Aspen. APCHA, the Aspen Pitkin County Housing Authority, holds lotteries for each affordable housing unit. However, each candidate for the lottery has to meet a set of qualifications: work 1,500 hours per calendar year in Pitkin County, live in the unit at least nine months a year, meet income requirements and asset limits. Additionally, applicants cannot own another residential property within the Roaring Fork River valley or the surrounding area.
Each year, residents of affordable housing units in Aspen are required to submit tax records and proof of income. At the upper end of affordable housing, net assets can't be higher than $900,000. At the lower end, a family with two dependents, an annual income of $50,000 and net assets of no more than $100,000 can qualify to purchase a home. Currently Pitkin County has about 3,000 affordable housing units.
Because of Aspen's extremely high open real estate market, the average person cannot afford regular housing. Recently, an affordable housing unit sold for $1.8 million. This is because a 1.8 million dollar house is affordable in the eyes of Aspen's housing.
Due to COVID-19 risks in big cities, many people have moved to Aspen from metropolitan areas. The number of real estate purchases this year has gone up by 800% according to the city, which made the market even more competitive. The median sale price of a residential property in Aspen has hovered around $2.5 million for the last couple of years. However, from May through August, the median sale price spiked to about $4 million, a 62% increase, creating an even greater need for affordable housing.
Greg Woods, the owner of G.F. Woods Construction, is hopeful that this project will be a welcome addition to the community.
"The new employee housing project will benefit the City of Aspen workforce by allowing more working class to be closer to the area they choose to be employed and increasing their quality of life. Creating pockets of employee housing throughout Aspen helps keep the neighborhoods rich in activity and vitality," Woods said.
The City of Aspen also has specific historic preservation rules. In order to keep the city cohesive and respect the rich history of Aspen, many construction projects working with historic buildings have to get creative. In this new project for example, they will add in new plumbing, build a basement under the historic house, and adjust to safety codes all while maintaining the integrity of the building. The other buildings in the project facing the street will have a slanted roof to match the historic house. While the one on the back will have a flat roof because it is more hidden from street view.
"Whenever we work on old structures in Aspen it's always fun surgically removing the interior wall surfaces and carefully peeling back the layers of time. Quite often we are opening up walls that are over 100 years old," and "I feel very lucky and proud to be part of the preservation effort that will continue to welcome people across the Castle Creek bridge and into our historic and mining town," Woods said.