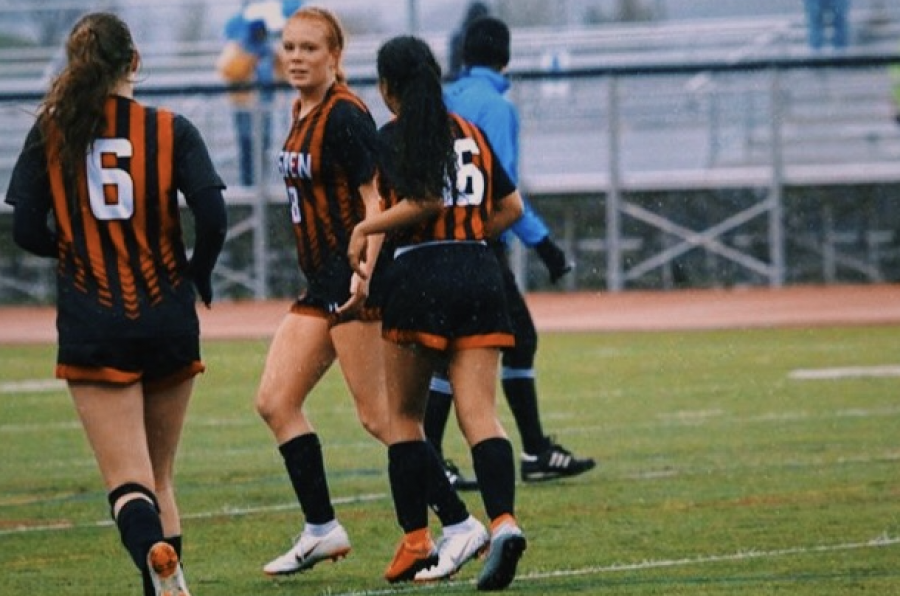 Photo courtesy of Karen Galvin-Sanchez
Spring Sports Senior Recognition: Women's Soccer
Due to the cancellation of spring sports, seniors who participate in boy's and women's lacrosse, women's soccer, women's golf, track and field, baseball, and women's tennis are missing out on their Senior Night. During Senior Night, players, coaches, and parents come together to celebrate the accomplishments of those who, in some cases, have played on that team for the past four years. The Skier Scribbler, in collaboration with the spring sports coaches, is highlighting the seniors from each team in order to give them the proper recognition for their hard work and dedication over the years.
Coach Chris Ellis shared with us some of his memories with the seniors of the women's soccer team: Maeve McGuire, Payton Curley, and Karen Galvin-Sanchez.
"Maeve McGuire has been an integral part of the team for all 4 years of high school. Her humorous approach in both sport and life brings great energy to the team. Maeve is a valuable and experienced midfielder and has proven herself to be a source of leadership and calm confidence both on and off the field.
Payton Curley brings a fundamental skill set to any position she plays, a valuable choice for any starting line-up. Her versatility as a player in multiple positions and connections with her peers has been important to the community of the team.
Karen Galvan-Sanchez is unique in that she has been an ever-present member of multiple sports teams throughout her time at AHS. She has a welcoming and engaging attitude that makes both playing with and coaching her a pleasure. Her consistency in showing up and being reliable is always an asset to any team.
Unfortunately, due to the circumstances brought about by COVID-19, our season has been unexpectedly cut short. Although this has proven to be unfair to the entire team, the seniors have been faced with a particularly difficult situation. Despite not being able to complete their high school athletic careers as they would have wished, their hard work and dedication do not go unnoticed. Use this, albeit, unfortunate experience and use it to overcome other hurdles you may well encounter. Gain strength and resilience in realizing things don't always go according to plan. With a good mindset, you will undoubtedly overcome these hurdles in life. Good luck to the 3 of you in all you do," Ellis said.
This would have been Chris's first season as the Head Coach of the AHS Women's Soccer Team, however, the Senior class has experienced a lot of success during their three years as part of this team. Each year, they had the opportunity to compete in the Colorado Class 3A State playoff tournament, reaching the State Quarterfinals in 2019 and winning their Leauge Championship title in both 2018 and 2019. In 2018, this team made history for the AHS Women's Soccer program, reaching the State Semifinals in the playoffs.
Karen Galvan-Sanchez:
I want to thank my team throughout the last 4 years. It's changed throughout high school, but I think every single year I've been lucky enough to meet new people and build such strong bonds. Even though this season got cut short, I'm extremely thankful to have spent a week and a half with all the girls; I know it would have been the best season yet. Last year was definitely jammed packed with memories; making it to states and bonding with the team during the overnights would probably have to be my favorite memory. I plan on attending Colorado State University and majoring in criminology and criminal law
Payton Curley: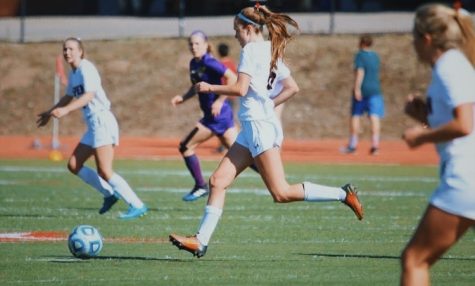 I would like to thank Jon Gillies for making my Aspen High School soccer experience truly unforgettable, Chris Ellis because he was the first coach I had when I first moved to Aspen and has always encouraged me to be the best I can be, and all of our dedicated mothers for the endless amounts of hours and gas you spent driving to Denver and back for games, Glenwood and back for practices, Grand Junction, wherever it was. And of course, thank you for all of the endless love and support you give to all of us. My favorite memory was winning against Basalt in overtime last year, and celebrating with Chinese food, or scoring the first goal in our game against Steamboat. Being a part of this team means never putting your hands in your pockets, singing Before He Cheats every bus ride, laughing until your stomach hurts, and playing your heart out for yourself, your team, and Haley Rinaldi. We skiin'! Next year, I will be attending the University of Washington in Seattle to study Public Health. Go Dawgs!
Maeve McGuire:
I want to thank my family and all the amazing coaches I've played for the past 12 years, especially John Gilles and Michelle Gray, for helping shape me into the person I am today. I was also really looking forward to this season with our new coach, Chris Ellis, and am hoping we'll have the opportunity to play – even once – with him. I would also like to thank my teammates and best friends for making the soccer season the best time of year. Some of my favorite memories from the past three years were the overtime win against Vail last year when we came back from being down 3-0, beating Basalt as a freshman, and our state semi-final appearance my sophomore year. Also, Doodle-Bob, the most fun bus rides, mom squad, and the pre-game "Before He Cheats" and tattoos. Next year, I will be attending the University of Chicago to study Molecular Engineering. I can't imagine never playing soccer, let alone with this team (many of whom I've played with since kindergarten), again, but regardless, I am immensely thankful to soccer for a lifetime of friendships and memories. #Haylesyeah. WE SKIIN'!