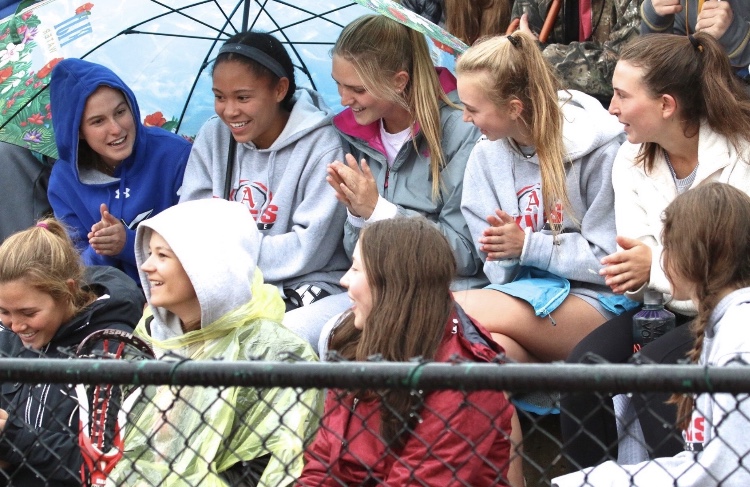 Photo courtesy of Leah Moriarty
Spring Sports Senior Recognition: Women's Lacrosse
Due to the cancellation of spring sports, seniors who participate in boy's and women's lacrosse, women's soccer, women's golf, track and field, baseball, and women's tennis are missing out on their Senior Night. During Senior Night, players, coaches, and parents come together to celebrate the accomplishments of those who, in some cases, have played on that team for the past four years. The Skier Scribbler, in collaboration with the spring sports coaches, is highlighting the seniors from each team in order to give them the proper recognition for their hard work and dedication over the years.
Head coach, Amanda Trendell, spoke about her appreciation for this group of Seniors, their heart and talent, and gratitude for putting this team on the map.
"We're graduating eight seniors and most of them, if not all of them have been playing together since they were at least in second grade. So, their dedication to lacrosse is definitely something that doesn't go unnoticed. I think something really special about this class was their ability to be patient with the process and being flexible. They've always been the 'Yes' class for the better good of the program, and you don't see that too often.
On the attacking side of the field, we had Hannah Zanin and Bella Williams. Their team mentality and not being too worried about statistics is really hard to find in attackers and I was really excited to watch them rock it this year.
On the midfield, we had Hayley Heinecken and Charlotte Howie, two top midis in the state, which I think speaks volumes for the work they put in during the offseason and how seriously they take themselves as athletes. We wouldn't be where we are as a team without them.
On the defense side, I was really excited for Lauren Fox and Taylor McKie who stepped up this year wanting to lead the defense with Kat Goralka. Our defense is definetly what has allowed us to hang with these more substantial programs. I was really excited to see our defense succeed under the leadership of those three.
Lastly, one of the most exciting aspects of this season was recruiting Sammi Jaworski from hockey. I was short on time, but if she had four years of lacrosse goalie, I think she could definetly be going to play at the D1 level. It was great to have her and the eight of the seniors have definetly set the bar for the underclassmen. They are such a great group of girls and I'm definetly going to miss them, extremely," Trendell said.
This would have been head coach, Amanda Trendell's third season as the Head Coach of the AHS Women's Lacrosse Team, During their three years as part of this team, the Senior class has experienced a lot of success. All three years they claimed the Leauge Championship title and had the opportunity to compete in the Colorado State playoff tournament. Last season, this team made program history, boasting an undefeated regular-season record and reaching the State Quarterfinals for the second year in a row. Next year, two senior members of this team will be playing lacrosse at the collegiate level.
Hannah Zanin:
Hi, I'm Hannah Zanin. I've been playing lacrosse since the 2nd grade and have loved everything about the sport. My favorite part has been playing with these girls for that long and watching all of us grow as a team. I have loved all the time I've gotten to spend with my team from traveling to California to long bus rides, the time we got together was really special. Being apart of the Aspen Girls Lacrosse team is something I'll never forget and be very thankful to have had the opportunity to learn from such great women. I first want to thank Coach T for being such a great role model to all of us and setting the standard of what a great team and group of girls should be. She has shaped each one of us and I appreciate all she has done for us in the last three years. I also want to thank Larissa for playing such a positive role in my life. She is always there as someone to talk to or if you really need a laugh. I don't think I could have gotten through the last few years without her. Finally to all of the other coaches thank you for constantly showing up for us and giving us the best 4 years we could have ever asked for. Next year I will be attending Syracuse University and will be studying business, but I will definitely be back to come to see our girls play next year and see what Kylie Kenny has in store for us!
Taylor McKie:
I'd like to thank my parents and coach T for always supporting me and allowing me to grow both on and off the field. Without any of them, I would not be the person I am today. My favorite memories from lacrosse over the past couple of years are having coach T join our team and really show us our true potential as a program and our team making it the quarter-finals (the farthest any ahs girls lax team has made it). As well as the fun and goofy times like on our 2019 spring break trip where we all had the opportunity to bond and grow closer off the field. Next year I will be attending the University of Richmond and hopefully continuing my love for lacrosse on their club team.
Sammi Jaworski:
I started lacrosse at the beginning of senior year so I only got to play for a few weeks. But I would still like to thank the coaches for convincing me to play this year. My favorite memory was playing in my first game/scrimmage. I am attending Endicott College next year and I am going to be playing ice hockey but lacrosse has helped me stay athletic throughout the spring.
Lauren Fox:
I want to thank all of my teammates for always pushing each other to be out bests and building a family on and off the field. The last four (I guess 3 rip) seasons have been so incredible thanks to the amazing coaching staff, especially Coach T and Larry, who inspire every player and never fail to make everyone laugh. I wish I could finish off the last four seasons with the teammates that I've been playing with since fourth grade. My favorite memories have been traveling to Santa Barbra with the team and making sideline dances. This team has been a huge part of my high school experience on and off the field. My teammates have become friends that I know she will have for the years to come. Next year I will be attending Boston University and hoping to try out for the club lacrosse team.
Kat Goralka:
Being a part of this team the last four years has meant so much to me. From offseason lifts to long bus rides and weekend overnights, I am so grateful to have played with my best friends. Although this season ended too soon, I have many memories of our time together. I want to give a huge thank you to the entire coaching staff for their dedication to this program and knowledge of the game. I would like to thank Coach T for pushing us to be our best and being there for us on and off the field. I also want to thank Larissa for her constant support and for always making me laugh. Lastly, I owe a thank you to my parents for all of their support in my athletics throughout high school. My favorite memories include beating Air Academy in 2nd round of playoffs and our team breakfasts in Santa Barbara last year. Next year, I plan on attending the University of Michigan and hope to study either biology or biophysics.
Hayley Heinecken:
I have been playing lacrosse since I was 6 years old. My favorite memory was last year's undefeated season and playoff run and the team who has taught me so much about lacrosse. I'd like to thank my teammates and coaches for unconditional support and for always pushing me, my parents, and Lindz for helping me achieve my goals. I was very excited to be captain for the 2020 season but am beyond excited to be playing lacrosse and at Colorado College next year.
Charlotte Howie:
I've been playing since 4th grade and am going on to play in college at Bowdoin next year. My favorite memory was celebrating the undefeated regular-season last year. I would like to thank my family and coaches.
Bella Williams:
I would like to thank Coach T and the rest of the assistant coaches for always believing in me and pushing me to be my absolute best. I would also like to thank my teammates who I have played with since 2nd grade for creating amazing friendships and a family. My favorite memory from the past 4 years was our spring break trip to Santa Barbra because it felt like one big family vacation. To me being apart of this team means having each other's back in and out of the season and supporting and pushing each other to be our best even when things get tough. Next year I will be attending the University of Southern California to study biology on the pre-med track
.