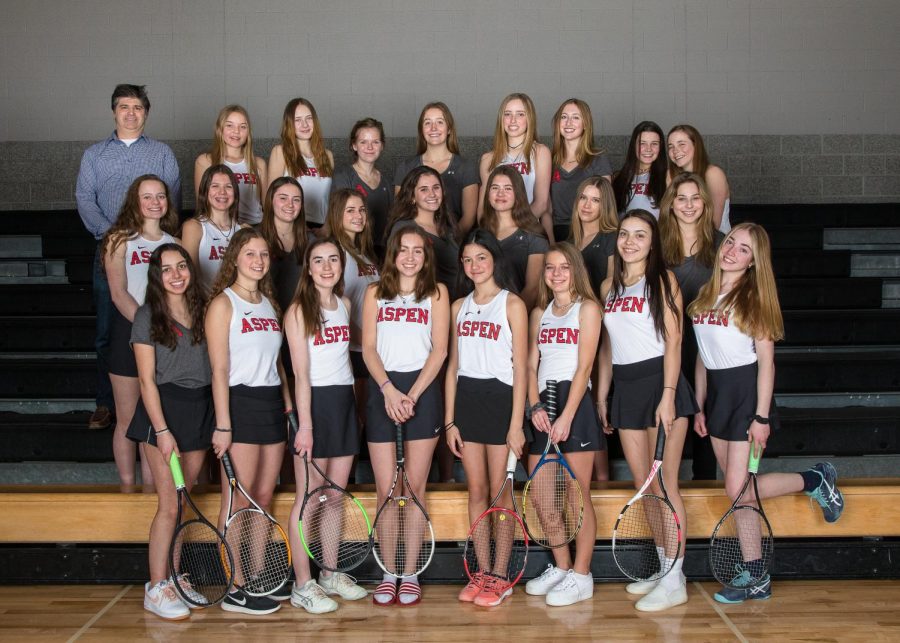 Photo courtesy of Cathy Miller
Spring Sports Senior Recognition: Women Tennis
Due to the cancellation of spring sports, seniors who participate in boy's and women's lacrosse, women's soccer, women's golf, track and field, baseball, and women's tennis are missing out on their Senior Night. During Senior Night, players, coaches, and parents come together to celebrate the accomplishments of those who, in some cases, have played on that team for the past four years. The Skier Scribbler, in collaboration with the spring sports coaches, is highlighting the seniors from each team in order to give them the proper recognition for their hard work and dedication over the years.
Coach Steve Sand shared with us some of his memories with the seniors of the women's tennis team: Karina Keller, Adelaide Walson, Olivia Burkley, Quinn Ramberg, Sophie Wilcox, Lourdes Ferreira, Naomi Sherman, Leah Lamont, and Juliana Nickell
"I was very excited about a great women's tennis season, after two weeks of intense tryouts and practice, and especially since we had nine amazing seniors on the team. Three of those seniors have been in the varsity starting lineup since their freshman year when we won regionals for the first time in 14 years!
Karina Keller played #2 doubles as a freshman (where she won regionals and got 4th place at states), #1 doubles as a sophomore, #3 singles as a junior, and it looked like she might be heading to the #1 singles spot before our season was cut short. Karina has, without a doubt, the most effortless power I have ever seen at the high school level. She regularly surprises opposing coaches and players with forehand and backhand winners, all the while looking like she doesn't have a care in the world. Of course, I know she cared very much, and don't they say that the great ones make it look easy?
Adelaide Walson played #4 doubles as a freshman on our regional winning team, clawing her way up through the lineup every year to likely secure a singles position this year. Addy is known for her beautiful technique in all aspects of the game, her perfectionism on the court, and her impeccable volleys, which are the best I have ever seen at Aspen High School. Addy's fondness for classic rock also helped keep her in the good graces of her coach.
Congratulations ladies! We will all miss you!" Sand said
"Olivia Burkley, a varsity starter since freshman year, won regionals at #3 doubles as a freshman, qualifying for the state tournament. She won regionals again as a junior at #2 doubles, and I was looking forward to seeing her compete at an even higher spot in the lineup this year. Olivia has an intense focus and concentration on the court, and yet she always showed great support for her many doubles partners throughout the years. Her serve and return became huge weapons in crunch time in her junior year, and she is a force at taking over the net." Sand said
"I want to thank Steve, Torre, and Bryan for being such dedicated coaches. I'm definitely going to miss Steve blasting music during practices and driving the minibus everywhere! I loved traveling with the team and cheering for them! I also want to give a shout out to Stef for being such an amazing partner. It's been a wonderful three years and I know next year the team is going to do great! Next year I will be going to school in California at Occidental College," Burkley said
"Quinn Ramberg played on varsity for four years. In her junior year, Quinn battled her way to the semifinals of the state tournament at #3 doubles, after playing a couple of amazing matches. She is known for her all-out effort and hustle on every point, so much so that she occasionally (frequently?) ended up on the ground during or after a point. Quinn always gets up and dusts off the clay, or blood, with a grin. That kind of single-minded focus on never letting the ball bounce twice is not expected, but certainly appreciated, by the coaching staff." Sand said
"The team dynamic was amazing and everyone was always so supportive of everyone else. We were always laughing and having a great time on the courts. Matches were amazing but playing with the team was even better," Ramberg said.
"Lourdes Ferreira played her first varsity match last season, and came into this season raring to go. She improved her game every year, and was poised to claim a starting varsity position this season.  Lourdes' consistent groundstrokes are her best shots.  She has great curiosity, and she plays her best when the music is loud," Sand said.
"Naomi Sherman also played her first varsity match last season and was definitely in the hunt for a starting varsity spot this year. Naomi has intense focus and concentration during points but likes to have fun in between points. Her very consistent and deep serve is her biggest weapon on the court, "Sand said
"Thank you Lourdes Ferreria for being the best tennis partner I could ask for! I made so many great memories in the past four years of tennis that I wouldn't trade for the world. I will definitely continue to play tennis throughout my life!" Sherman said
"Sophie Wilcox played five varsity matches as a junior, earning her first varsity letter. Sophie showed immense improvement over her three seasons, and I was anticipating a breakout year for Sophie on varsity this year. Her smile and kind demeanor are contagious, and yet she is still a fierce competitor." Sand said
"I want to say thank you to all of my coaches for making every year so much fun and pushing us to get better and better. I will miss them!" Wilcox said
"Juliana Nickell always brought a smile to practice, and this season, I was excited to have her bring her state champion attitude and discipline to the team (way to go Juli and the dance team!). I didn't get a chance to evaluate Juli's tennis improvement since last season, as our season ended just as she was returning from dance team nationals, but I know for sure that Juli would have brought a bundle of enthusiasm and joy to the team." Sand said
"Thank you to Steve and all the coaches for a great 3 seasons! I have had so much fun these past three years and have made some great memories. Next year I plan on attending Wake Forest University in North Carolina." Nickell said
"Overall four years of tennis, Leah Lamont was the biggest contributor to the esprit de corps of the tennis team. While not a fan of intense competition, she has a quiet assertiveness about her. One of Leah's greatest gifts is her ability to roll with the punches. She is always comfortable being herself, and she always makes her teammates feel special. Her low, crosscourt forehand is her most damaging shot." Sand said
"I loved hanging out with all the girls on the team! It was a fun time! Also thank you Juliana for being my doubles partner!" Lamont said