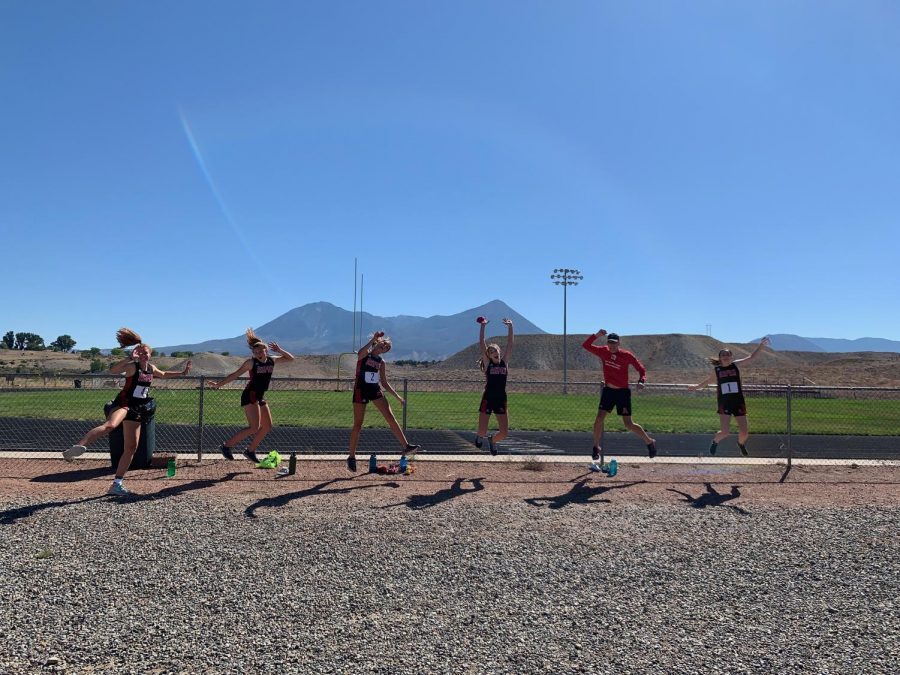 Running their mouths: an update on the cross country team, by the cross country team
Cross country season is well and underway despite the COVID-19 pandemic that has put a halt to other fall sports under the Colorado High School Activities Association guidelines. Regardless of  challenges presented by COVID, the entire AHS cross country team has proven to be a dominant force.  
AHS seniors Kylie Kenny and Kendall Clark finished in the top-10 females and George Beck finished in the top-10 males for their 5K races in an August 29th cross country meet at Crown Mountain Park. 
The team then traveled to Hotchkiss, Colorado on September 5th where they won the meet. Kenny placed first in the female 5k, followed by teammate and sister Michaela Kenny, a sophomore, in second. Runners Edie Sherlock and Macy Hopkinson, both seniors, placed fourth and fifth, respectively, and Stella Sherlock, a freshman and sister of Edie Sherlock, placed seventh. 
On September 12th, the varsity boys and girls competed in the Tiger Invitational, where senior Christain Kelly placed eighth for the boys 5K. Runners Kylie Kenny, freshman Elsie Weiss, and Clark, placed fourth, ninth, and tenth, respectively.  
The junior varsity team also competed on September 12th at the Demon Longhorn JV meet. Sophomore Anders Weiss finished fourth, freshman Sasha Forman finished seventh, and senior Caden Klein finished tenth. The woman Skiers also placed well, with senior Ruby McBride racing to second and sophomore Natalie Wesner finishing in eighth place.
The Skier Scribbler checked in with a few runners to see how this season has been for them.
What are you most proud of in terms of accomplishments, either individual or team this season? 
Mino Khan Farooqi, Freshman: I am able to run much farther since I started practicing with the high school team.
Christain Kelly, Senior: I'm most proud of breaking 17 minutes in a 5k, as well as having a stronger boys team compared to the past couple years. 
Michaela Kenny, Sophomore: I am proud of how I have been doing as an individual, but I think that the team has had a pretty strong time, both boys and girls.  
Edie Sherlock, Senior: As of now I would say that I'm most proud of how our team has taken this dramatic change to our season is going to work and how it has been working. It's a lot harder for example to run in different sheets than the rest of your teammates, because we are also used to being able to piss off of each other, so for me, I would say that I am very proud of how all of my fellow teammates have been able to take this challenge in stride, and with that, become better athletes and people.
What has been your favorite part of the cross country season so far?
Macy Hopkinson, Senior: The camaraderie and spirit that everyone brings to the team. Cross country is such a crazy sport, but we all share a powerful bond for doing it. 
Bridger Thompson, Freshman: The friendships that I have created with my teammates.
Audrey Corcoran, Senior: Even though we are social distancing and wearing a mask, it's so nice to come all together and still feel like being part of a team, [as well as] being together through this time!
What has been the biggest challenge this season for you or the team as a whole?
Maggie Woodrow, Senior: For me, it's been getting the motivation to run and to push past the health issues.
Taiga Moore, Senior: Trying to be fast.
Stella Sherlock, Sophomore: Our team is usually a really close team. Before COVID, every Friday before a race, we would get together and have a pasta dinner, and other things like that. Now, due to COVID, we can't even run in big groups as a whole team.
If you are new to the team, why did you decide to join? Are you enjoying cross country?
Bridger Thompson: I have been doing cross country for all four of my years at the Aspen Middle School, and I decided to join the team this year and see what it is like. So far, it is interesting and fun at the same time.
Mino Khan-Farooqi: I ran in middle school. Yes, it's really fun! Everyone is really nice, and it's a good release.
Taiga Moore: I joined because mountain biking wasn't happening.
Christain Kelly: I joined cross country because the mountain biking season was canceled, and it seemed like a fun team, as well as a good thing to keep fitness up for the winter season.
If you have run cross country for multiple years, what are some of your favorite past memories, and if you are a senior, what are you going to miss most about this team? 
Michaela Kenny: I [ran cross country] last year, and I always loved the post-race bus rides and pre-race pasta dinners. 
Edie Sherlock: I would say that personally my favorite memories have been bus ride home, or the spaghetti dinners on Friday. The one that I am most fond of is probably my freshman year when we were coming home from the Ouray race… after we got on the bus, we all went to City Market and bought double stuffed Oreos, fried chicken, and all of the junk food that we wanted and just laughed and listened to music and had an amazing time with our fellow teammates; it was really one of the biggest bonding experiences that I've gotten to have on the team.
Macy Hopkinson: I will miss adventure runs (just follow the leader (being Chris) wherever he leads you), night runs, state memories in hotels, singing songs as a whole team on the bus, spaghetti dinners every night before the race, lively Snapchat group chat, and making it to State at Regionals my freshman year when we beat Basalt by 1 point. 
Audrey Corcoran: I love all the bus rides that we used to take and the post-race snack runs we used to take all together with the team. I will miss just being on the team in general, and our coach Chris because he's the best!
Maggie Woodrow: My all-time favorite part about ANY season would have to be the adventure run! Sometimes it's the occasional night runs, but especially the team dinners where we all really get to bond. I'm defiantly going to miss the community of runners. "It's not crazy if we are all doing it!"
Stella Sherlock: The bus rides home from races were my favorite. We would always stop and load up on junk from City Market. And all experiencing the pain of the race together.