The realities of dating during COVID-19
I am a Snapchat boy that's bored over quarantine, and I will dazzle you with my amazing face and features.
Photo #1
This is my face. It looks like this. As you can see, I have used the 'mocha' filter to amplify my attractiveness to females. I wear a beanie, with only a tuft of my soft, coffee-brown hair sticking out, and I look extra-appetizing. I smile at you to show I am happy and that if you choose to date me, I can make you happy. See my blue eyes, my soft hair, my clean, tan skin. Admire it all, and then snap me back because I will block you if you leave me opened or unopened, for that matter.
Photo #2
As you may have guessed, my looks do not end at my face. Here is a mirror selfie, so that you can see my beautiful abdomen. An abdominal is very important when proving my attractiveness. I wear shorts for you to show how I am beautiful and robust, using the 'green screen' filter. The filter means nothing, as I am just as beautiful without it. The filter does not clear my acne-filled face, as it is already glowing and clean. This filter does not, I promise you, change my facial shape or structure, as it is already perfect, and my jawline looks just like this in real life. With my sculpted face and 12-pack, rock-hard abdominal, I will protect you from the snow and cold and hold you in my firm, tan, beautiful arms. Unless you ghost me, in which case I will spread horrible rumors about you and tell everyone that you're pregnant…and that you have COVID.
Photo #3
I now send you a black screen, as you have failed to snap me back within 2 hours. This screen is black as it represents the darkness of my soul and the sadness you have caused me by not immediately snapping me back. This is your punishment, as this photo lacks the beauty of my abdominals or jawline. You cannot see me at all because I am now dead inside, only a dark soul. After you open this, I will not snap you back as you no longer deserve to see how beautiful I am. These photos do not show how I have no life and simply lay in my bed, but that I am a complicated and complex work of art that will soon appear on the cover of a Gamefemale magazine when I am of age.
Leave a Comment
About the Contributor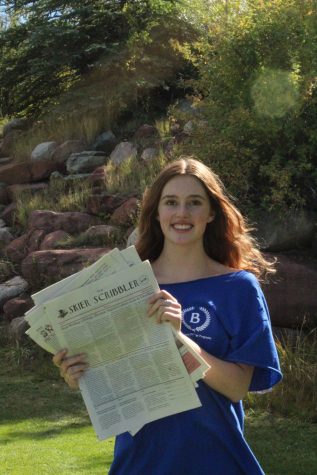 Oceane Jones, Editor-in-Chief
Océane Jones is an Editor-In-Chief of The Skier Scribbler. As an AHS senior, this is her third year on The Skier Scribbler I. her free time, Océane enjoys...