AHS football's unconventional season leads them to playoffs regardless
Aspen High School's football team had a successful 2021 season, despite the fact that their season was condensed. they were able to play a good amount of games, and win some of them.
Playing seven games, and winning three of them, the AHS football team was able to make their way to the playoffs. The four seniors on the team played their last season, even if it was unusually short as a result of COVID-19. AHS football was also able to win our homecoming game against Steamboat Springs.
AHS junior and football team receiver and outside linebacker, Brady Haisfield, reflected on their season. The team didn't start the way they wanted to, going 0-2. He believed those losses at the beginning of the season made every game that much more important to their team, and caused the senior leaders to step up, making sure the team was all giving 100% effort to every practice and game.
"Facing that adversity helped us come together and play for each other, which ultimately helped us get into the playoffs," Haisfield said. "And going into next year, I think it's important that we just continue to work all summer and get in the weight room."
Haisfield is excited for the coming football season. He thinks they can have a good team and can put up a good fight in the playoffs.
AHS football head coach, Coach Travis Benson, discusses the differences between their normal season and this year's unusual spring season, and how the four seniors (Cole Kennedy, Storm Silich, Noah Akin, Connor Allen) took the challenge of leading the team to playoffs.
Benson is proud of the team as a whole for their resiliency, and especially of how the seniors finished their high school careers,making playoffs three out of the four years they played for the team.
Despite the struggles that the team faced, with the postponed seasons and snow every week of the season, the seniors gave a considerable amount of time and effort to the team, not only this year but over the past four years.
"They each had their struggles in their senior year but still battled through adversity to lead their fellow teammates through a strange spring season. My hat is off to them and excited to see them take the next steps in college," Benson said.
AHS senior and football team wide receiver and cornerback, Noah Akin, enjoyed being a leader on the team. He believes it was an amazing opportunity for him. Although the season didn't exactly go how he had hoped, Akin felt it was fun to compete with his friends one last time.
The team had a rough start to the season due to a difficult schedule but were able to bounce back.
"We rebounded greatly and I'm happy with how the team responded to adversity this year. We had lots of injuries, and in a weird year we still made a lot of stuff work," Akin said.
Akin is proud of his younger teammates who took steps forward and were able to play more than usual, and is excited to see what the team does in the future.
Leave a Comment
About the Contributor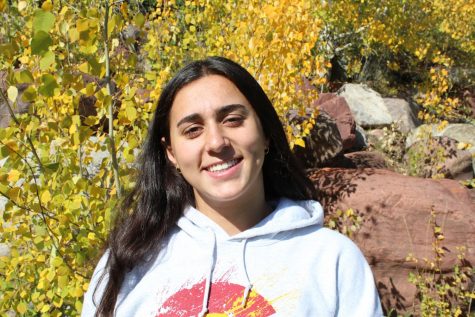 Kayla Tehrani, Editor-In-Chief







Kayla Tehrani is a senior at AHS. This is her third year writing for the Skier Scribbler and is very excited to be an EIC this year. In her...