Women empowering the 14ers
Climbing above 14,000 feet is something not many of us are capable of doing, but for those few who can, they aim for the top.
Local legend Christy Mahon shares her story about being the first woman to climb and repel down every fourteener in Colorado. Mahon, who also is an outdoor enthusiast, works as a Development Director at ACES.
"I think a lot of my passion has been living here for the past 14 years surrounded by so many opportunities," Mahon said.
Mahon enjoys sharing her insight and inspiration of getting to the peak with others.
"Often, climbing mountains is very much like life. You need a lot of perseverance, and you need a lot of grit, and you have to be really resilient, you can't give up. I think I liked the challenge of knowing that I could do something that maybe I tried to do before, I didn't know I had the potential inside of me," Mahon said.
Mahon's love for climbing goes beyond her. She enjoys traveling all around the world to hike and climb with her husband."
"I think having a right hand man is important to accomplish my goals. I was really lucky to find a really incredible partner, who is prepared, thoughtful and was a good mentor, and I think that that was a real secret to me figuring out that I actually would become a good mentor and partner and so I really was able to learn mostly from my mentor or my now husband." Mahon states
Mahon says, "I think it's important to build skills slowly," and continues to share her story.
"I think it's important to build skills slowly. I didn't go climb Capital first. I did 53 Mountains before that and a lot more because I had to even do them two or three times again, and so I think it's important to realize that we have that strength inside of us. So just to render ourselves in the right environment with the right people, but I think the real secret is to find out a lot of grit and resilience is hard, you have to teach yourself that,"
Mahon loves sharing inspiration with others who might use it later.
"A lot of it is building that mental strength. Being okay with failing and being okay with feeling like you're not doing everything right. I think it's both kind of surrounding yourself with the right environment, surrounding yourself with the right people, but then also learning that you have the potential within you. So confidence is key," Mahon said.
Finally, Mahon speaks about climbing and also more goals that she wants to achieve.
"There are 54 official fourteeners in Colorado, and then I skied the 100 highest peaks. So those are called centennial peaks. Now I am trying to ski all of the bicentennial peaks, or the top 200 peaks. And so the project continues. I can't imagine myself accomplishing that."
Leave a Comment
About the Contributor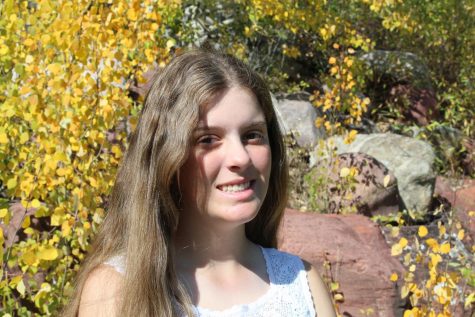 Maddie McAllister, Staff Writer
Maddie McAllister is a Sophomore at Aspen High School. This is her 2nd year in journalism and is a staff writer for the Skier Scribbler. In her free time,...