Local chef Mawa McQueen's recipe for empowering the youth of Aspen
Mawa McQueen is a renowned character in the Aspen community. According to the Aspen Times, Mawa's Kitchen holds notoriety for its ​​bright and beautiful display of cuisine. At AHS, local chef Mawa McQueen is known for her empowerment of high school students. Mawa McQueen does not just fuel others through her food, but also through her "bright and beautiful" display of wisdom.
In past years, McQueen has educated AHS IB Business students on real-life business procedures and decision-making through Mawa's kitchen. On August 27th, McQueen attended an AHS women empowerment group, Shakti power paddle boarding, hosted by technology specialist Kim Zimmer. McQueen shared her unique story of resiliency with the high school students.
"She [Mawa McQueen] presented herself as a very confident and outgoing woman and she was super charismatic in a way of telling us her personal story," AHS sophomore and attendee of the empowerment group, Maddie McAllister, a Skier Scribbler Staff Writer said.
McQueen spent over 12 years defying difficult odds to craft her business. Like many entrepreneurs, she did not find success with her first business endeavor, and spent over a decade rebuilding her business foundation. McQueen is now thriving doing what she loves: cooking, and spreading love and human connection through her food.
According to McQueen, the intention behind sharing her story of resiliency among youth is to empower them.
"I think it [sharing a story] helps people to be more resilient, and girls to be more resilient, to be more powerful. Sometimes it only takes one word to empower someone for life. Be kind and see good in people, see that [you] are the future generation. You guys can create a better world for everybody," said McQueen.
According to McAllister, McQueen's intended effect to instill resiliency in youth was achieved within the women's empowerment group. "One of my biggest takeaways was how she [Mawa McQueen] never gave up," McAllister said
Mawa McQueen has reserved a nook of her generous heart for high school students, as she sees the potential and power in younger generations.
"What gravitates me [to high school students is] because I think they are the future, and they have a voice, and they need to be heard. I think they don't know how powerful they are for the future," McQueen said .
McQueen continued by addressing high schoolers as a whole.
"You guys have no idea how powerful you are, or how you make things happen, and how change can happen. If only you knew your power, then, you can fulfill your destiny. You can bring more change."
As stated by McQueen, younger generations, such as high schoolers, are seemingly unaware of the power they hold towards creating change and innovation in the world around them. The "recipe" for youth to grasp this sense of power, according to McQueen, is to promote resiliency, determination, and self-value.
"Never underestimate your power. Never ever underestimate your power. The day you don't want to do something even more so you should do it, whether it's something to empower or something that's good for you. Never underestimate your power," McQueen said.
Leave a Comment
About the Contributor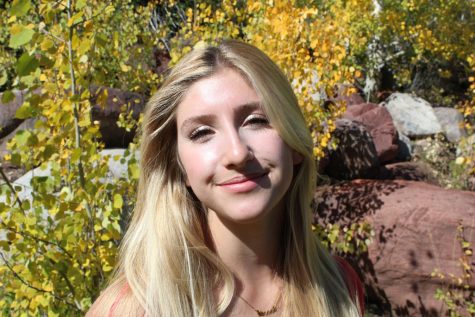 Hannah Smith, Editor-In-Chief
Hannah Smith is a senior at AHS and an Editor-In-Chief of the Skier Scribbler. This is her third year writing for the paper. In her free time, Hannah loves...