Aspen Elementary and their unvaccinated kids.
According to the CDC, By March 2021, 80% of staff at schools nationwide had received the first dose of the COVID-19 vaccine. Now, some schools are requiring vaccination for students and employees.
At ASD, students and staff who are unvaccinated must get weekly covid tests. However, elementary students are still not eligible for the vaccine. Some parents of children (under 12) not old enough to receive the vaccine are reluctant to send their children back to school, because of rising cases for the unvaccinated with the Delta Variant.
According to the CDC, "Unvaccinated people are 2.34 times more likely to be reinfected with COVID-19. With most elementary students currently unvaccinated, schools are taking extra precautions to guard against this danger of reinfection."
While this is an ongoing issue right now, the vaccine may become eligible for children 5-11 years old by next month. This would mean elementary schools would have every child vaccinated if they so choose to be.
Lisa McGuire, a kindergarten teacher at Aspen Elementary School, talks about the precautions taken by the school to keep kids safe.
"When they [AES students] come in, and they get to wash their hands, that's something, and also when we come in from recess before we go to lunch we're always way more heavily monitoring the hand washing," McGuire said.
Katie Fox, a fourth-grade teacher at AES, shared how the school is trying to maintain a sense of normalcy while following COVID protocols such as frequent hand washing and keeping masks on.
"They are able to sing with Marnie [AES music teacher} this year, which is really cool in the classroom, it's a huge victory for her. But she has masks that are very well fitted with the nose piece and make sure that when they walk into class, they have their mask well fitted, and then they can sing, so they can kind of feel a little bit more normalcy," Fox said.
At AES, there are more COVID rules and regulations than the middle or high school, as the students are unvaccinated.
"They [AES students] are required if they have one symptom, any symptom, a runny nose, cough, or itchy throat-to get a COVID test, have a negative COVID test, and be symptom-free for 24 hours," Fox said.
Teachers at AES enforce proper mask-wearing among students. but some of the younger kids have trouble with it and don't understand why it needs to be worn.
"I had a child, " McGuire continued. "Who's just kind of like a defiant kid, I got the support from administration.".
McGuire added that David Baugh, ASD superintendent, said that students refusal to wear masks meant shifting to virtual learning
"[The principal] needs to call the parents and say, 'Look, if he's not going to wear his mask at school, then he's gonna have to be virtual," Baugh said.
According to Fox, students with hearing barriers face more challenges than others in mask-wearing times.
"I have a student who is hard of hearing this year. And so that's been a hard thing for him to be able to [do], and that's why I'm wearing this mask [mask that is clear where her lips are], so that he can see my lips, and be able to read my lips," Fox said.
Leave a Comment
About the Contributor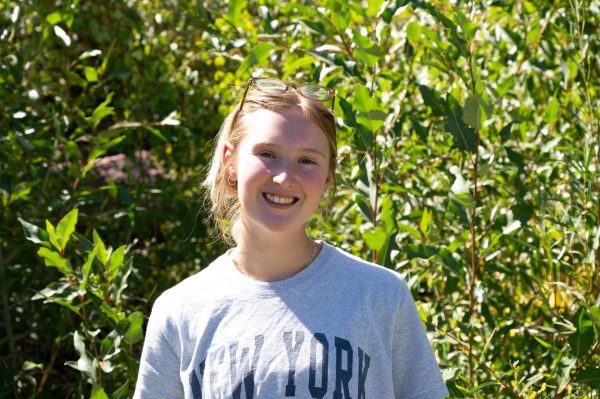 Stella Iverson, Editor-in-Chief
Stella Iverson is a senior at AHS. This is her fourth and final year writing for The Skier Scribbler. As an Editor-in-Chief, Stella is excited to bring...