New rock climbing wall in skier dome
A new investment is being made for a rock climbing wall that will be in the Skier Dome. Eldorado Climbing will be installing Aspen High School's first-ever rock climbing wall during spring break. Eldorado Climbing will also be working with Basalt High School. The design of the rock climbing wall is unique to fit the round walls of the Skier Dome. It will be on the wall directly opposite the doors, meaning as soon as you walk in you will see it.
Eldorado Climbing has been designing, manufacturing, and installing climbing walls around Colorado for over 25 years. Their design for the wall in the Skier Dome is not only extremely functional for the space, but it also accommodates the most climbers and social engagement possible for the repurposing of this area of your gym. The flooring is the best top rope flooring offered by the company and provides 5.5 inches of dedicated climbing fall attenuation to prevent injuries, Eldorado Climbing explained in their project proposal.
Brent Maiolo and Sheri Smith, who created the idea for the wall and organized its installation, received a $205,000 grant from the state. $50,000 will go to Dan Pearl for the bike tech class, while the remaining $155,000 will go towards the installation of the wall. The installation will take about 2 weeks to complete. The timeline for the climbing wall includes six steps, from the idea phase to installation, according to Maiolo and Smith / Eldorado Climbing / etc.
1. Sales and Management work out the logistics of the agreement.
2. Design team creates approved renders and models in coordination with the client.
3. Structure and custom shapes are translated into 2D fabrication and installation documents, Steel is cut and welded, wood panels are CNCed,(machine that uses a drill bit to remove material from a solid block.) texture paint is prepped, holds are ordered.
4. Crew, tools, and materials are transported to the job site.
5. Structure is anchored to building, shapes are installed, the surface is painted and inspected, handholds are route set. 6. Safety, route setting, risk management, maintenance, operations.
Porter Holmbeck, a senior and climber at AHS shares the excitement this brings for people.
"I think it'll be interesting to be able to be at school and to climb. I also think that will kind of open the door for more people getting interested in it," Holmbeck said.
Leave a Comment
About the Contributor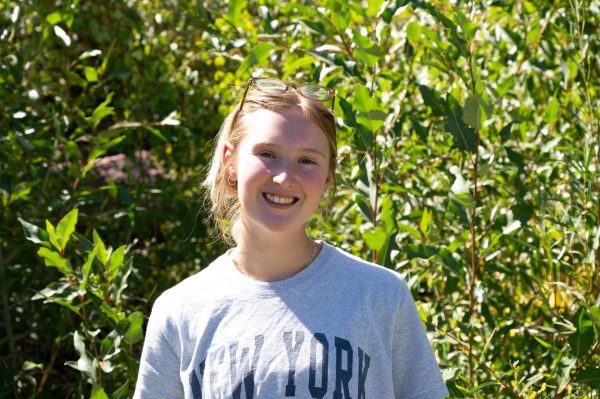 Stella Iverson, Editor-in-Chief
Stella Iverson is a senior at AHS. This is her fourth and final year writing for The Skier Scribbler. As an Editor-in-Chief, Stella is excited to bring...