10 steps for a successful student-athlete recruitment
The Coronavirus pandemic has changed the way colleges are recruiting student athletes.
Due to COVID-19 restrictions, college athletic coaches are no longer able to watch prospective student athletes perform in person. With coaches unable to visit high schools, to watch athletes compete in their preferred discipline, the college recruiting process has changed tremendously, with almost all recruitment operations occurring virtually.
However, the New Hampton School, a private boarding school in New England, has outlined 10 essential things to know and consider when trying to get recruited online during the pandemic.
Stay positive and be patient
It's a hard time for everyone trying to get recruited right now. Being patient and having a positive attitude will help lower stress levels and make the recruiting process easier.
Be proactive
It is important to stay in contact with coaches. Showing them that you are interested by reaching out and taking action shows commitment to their program. Continue to email them and stay in touch, even when it seems like "they're not paying attention." Finding a position on their radar and staying there is very important.
Book a virtual video call
This is just about as close as you can get to seeing a coach in person. Being able to see someone face to face (even if it's through a screen) and having a conversation is vital to them understanding who you are and who they're accepting into their program.
Take a virtual campus tour
It is important to get a better idea of the place you will live. Virtual campus tours will give you a better understanding of a campus.
Have your coach make a call for you
Having that unofficial recommendation and having someone talk you up to a coach will take you a long way.
Focus on your education
Keeping up with assignments in school and making sure to maintain good grades will show that you are dedicated. If you fall behind, it might make you look irresponsible.
Keep track of your eligibility
Continue to update any profile you have for your sport that coaches will check, it is the main resource to them deciding if they want you.
Create an athlete resume
It's okay to show off sometimes. Showing coaches your accomplishments and what you are able to do will definitely be a boost to your process.
Use social media
Using social media is important as you can put tapes of you playing your sport on your social media, as well as the things you post on social media helping a coach see more about you.
Be open to options you may not have previously considered
It is always good to keep your options open. A place you've never heard of could be where you fall in love and want to spend your next four years. Don't discount anything because of something that won't necessarily matter in the grand scheme of things.
View Comments (1)
About the Contributor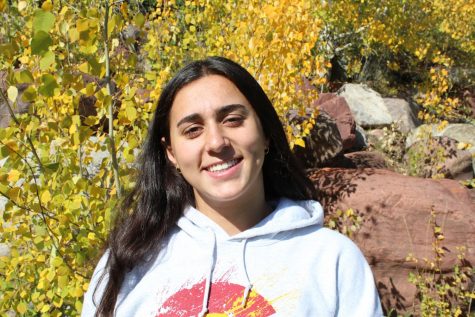 Kayla Tehrani, Editor-In-Chief







Kayla Tehrani is a senior at AHS. This is her third year writing for the Skier Scribbler and is very excited to be an EIC this year. In her...