Girls basketball culture shift
The Aspen High School girls basketball team is entering their 2021-2022 season this year under new management. A new initiative implemented by former Athletic Director, Martha Richards, two years ago saw a change in the level of play and coaches for the team.
This change removed the Varsity team from the girl's basketball program, leaving one Junior Varsity team and one 'C-Team'. The reason for this change was to encourage the future players on the team to participate. Along with this, to raise team spirit overall.
Previously, the girl's basketball team had poor records in games and a lack of team enthusiasm. The Varsity level of play proved to be a challenge for the AHS team in past years. In the 2018-2019 season the Varsity Skiers team went 4-15 and in the following year, 2019-2020, they went 3-17. With an enduring, losing record, Richards decided it was time to allow the team to take a step down in level to make their games more enjoyable.
In this year's season, only one Senior remains from the previous seasons before the change in level. Amy Amaya, who has played on the team for three years, noted that not only did score lines affect the change two years ago, but also the low morale of the team.
"The vibe in previous years was very toxic, no one wanted to be there most of the time, which made it hard to play. [This year] when I rejoined the team it was like we instantly clicked and we're a family," Amaya explained.
Brooke O'Sullivan, a Sophomore in her second season on the team, had not experienced seasons prior to the level change. She believes regardless of level the team will find success.
"The team culture has definitely been focused around development. I believe that no matter how many games we win or lose as a team, we will find success in learning lessons about teamwork and adaptability. Hopefully, the class of '24 and below will prove to be exemplary in redeveloping the girls basketball program," O'Sullivan said.
Leave a Comment
About the Contributor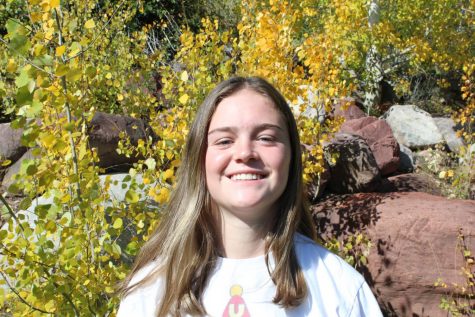 Jenny Ellis, Editor-In-Chief
Jenny Ellis is a Senior at AHS. She is in her third year as a writer for the Skier Scribbler and first year as an EIC. She likes to ski, play soccer, skateboard,...