AHS students featured in Aspen Chapel Gallery exhibit
The Aspen Chapel Gallery's first show of 2022 will run through February 12, and includes 17 works from Aspen, Basalt, Roaring Fork, and Glenwood Springs High Schools and CRMS.
Although the pieces are not for sale, they can be adopted for $25 each to support each school's art programs. Julie Trahon and Stephanie Nixon, AHS art teachers, considered the creativity, skill, voice, and variety of the works, with senior IB art classes making the final selection. Trahon highlighted the importance of giving artists the oppurtunity to express their voice.
"People should see this show because it shows our student artists that we are interested and value their work," Trahon said.
Molly McManus, an AHS junior, described her piece, titled "Unlucky Wishes", as "a mix between good and evil."
"In Japanese culture, paper cranes are a sign of good luck. However, the number 4 is considered an omen of death," McManus said.
Phoebe Bianci, a sophomore at AHS, also featured her piece, titled "There's Someone", in the show.
"I'm really honored that enough people liked my piece to choose it to be put into the gallery," Bianci said.
Leave a Comment
About the Contributor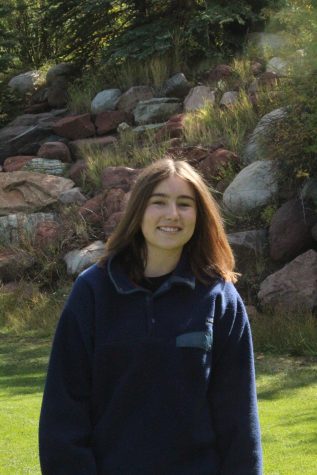 Harper Axelman, Editor-in-Chief







Harper Axelman is a senior at AHS and this is her third year writing for The Skier Scribbler. She enjoys spending time outside, skiing, and...