Fashion Trends You May Not Have Known Were Set by the Black Community
While Black History Month was in February, that does not mean Black history isn't relevant anymore. So here is a brief history of six popular fashion trends at AHS that represent Black cultural influences in fashion.
A popular fashion trend in AHS is hoop earrings. This style of earrings originates from Nubia and Ancient Egypt. It started to regain popularity in the 1960's through celebrities like Nina Simone, and Angela Davis. Gold hoops remain a staple in the Black community, often symbolizing coming of age for Black women.
Another common trend seen at AHS influenced by the Black community is acrylic nails. This trend first became popular in the 1960's with appearances from Donyala Luna, and Dianna Ross. Acrylic nails have always been popular in the beauty industry but popular styles like long, intricate nails were popularized by the Black community.
Tight tops and oversized bottoms are another fashion trend that is popular at AHS. In the 1990's Nlack celebrities like Aaliyah, a famous American singer and actress, and a group of three girls who called themselves TLC were the first to make the tight top and baggy bottoms an iconic staple.
Lettuce hems are a popular style at Brandy Melville. This style is a beginner sewing technique that gives the seams a frilled or curly edge finish. Stephen Burrows, an African American designer created the lettuce hem in the 1970's.
Monogram prints have been attempted by luxury brands like Louis Vuitton for decades. However, they didn't become popular until the 1980's when Dapper Dan, an African-American designer, applied ink to clothing through a fine-mesh screen to create the logos. Dapper Dan then styled rappers with his designs.
At AHS, many people are seen with athletic sneakers on. In the 1970's black celebrities from basketball players to hip-hop artists changed sneakers from being used for athletic purposes to popular everyday shoes.
This is a reminder to appreciate where the trends you participate in come from and to value cultures other than your own.
Leave a Comment
About the Contributor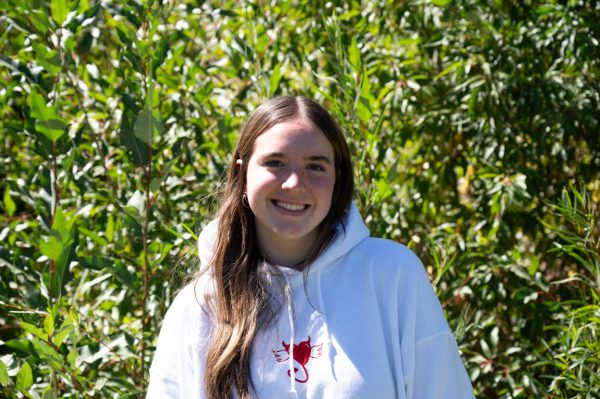 Sara Michelin, Staff Writer
This is Sara's second year writing for The Skier Scribbler. She enjoys the people she gets to work with while writing for the paper. Sara is also a competitive...