Aspen Jazz Fest Brings the Surprises
I went to Jazz Aspen with one thing in mind: the music. Having seen Ryan Tedder, the lead singer and guitarist for OneRepublic, on American Idol, my expectations were low, for his voice was terrible. Upon arrival, I suddenly perked up. The smell of all kinds of food invaded my nose. I knew from previous years that the catering of the festival was always good, but this smelled better than plain old good. It smelled like I was in for a top-notch surprise.
After getting through the rather rude security, my nose and I took an immediate right. As many of you may know, that is not the direction for the concerts, but rather the food area. This area is filled with about ten different food tents, which brought my excitement to an unbearable level. As I perused the options, I made frequent stops: I visited the Minnesota State Fair stand of fried deliciousness. Then, the Hickory House, a returning favorite to the festival, spread the smell of barbeque sauce all around. There was Indian, Thai, and Italian cuisine! You name it and there was a food stand for it.
However, one of the stands stood out most of all. It was not only the beautiful display of doughnuts calling my name, but also the friendly workers' smiles that lit the area as well. The name of this particular stand was "Coloradough", a family-owned bakery in Glenwood Springs, known for their almost-fancy "Cronuts": a mix of a croissant and doughnut. They are the Food God's gift to our world.
After thoroughly stuffing myself with two doughnuts, a Cronut, a rack of ribs, and some spicy chicken mac'n'cheese, I decided I had done my time with the food. My expectations had already risen due the unexpected feast, so my outlook on OneRepublic began to rise. I could feel the crowd's energy as we all counted down the minutes until the band's arrival on stage. And when they finally arrived, I found myself in complete shock.
Ryan Tedder's voice was outstanding to hear. Tedder's ability to hit the high notes, low notes, and all the notes in between was impressive and left me with a wide open jaw! The crowd responded similarly . . . with pure awe. Tedder was not only good at singing, but also at playing guitar and piano – an extremely important skill for any musician. The band as a whole was very entertaining to just watch. It was easy to tell they had zest for performing from their high energy. A performer having the ability to entertain the crowd is the most important part of putting on a show. AHS sophomore Calli Ferguson, stated "I was surprised; OneRepublic was more of a concert band than a recording band."
In the end I left Jazz Fest with an overly positive attitude and rush of enthusiasm. The stomach ache did not even bother me because I got more than what I came for. I came for the music and was prepared to be disappointed. I left with the experience and memories of an amazing show and quite a few wonderful meals.
Leave a Comment
About the Contributor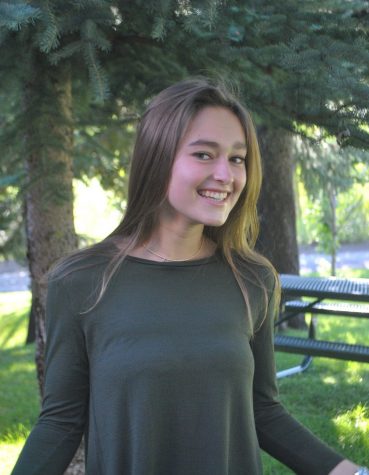 Carson Friedland, Design Editor
Carson Friedland is a staff writer for the Skier Scribbler. She is graduating in the class of 2017.  This is her third year in the journalism class,...