For the Love of Arts
AHS Senior, Sophia Higbie, is following her passion for the arts by attending the school of her dreams, The American Academy of Dramatic Arts. Higbie wants to broaden her horizons and reach for the top through working hard and doing what she loves by majoring in the arts.
She's demonstrated that through acting in the productions of Singin' in the Rain, and Take Ten, as well as Pride and Prejudice, where she played a leading role of Elizabeth. Higbie also performed in A Midsummer Night's Dream, Willy Wonka, Retrospect Echo, the student play, and the Sound of Music.
"I love acting. It's pretty personal, but it's important to my life story. Not unique to the acting community, acting has literally saved my life. It gave me drive to get up every morning because 'the show must go on. 'And I think I owe acting my life for that," said Higbie.
"Onstage, I feel this kind of peace with myself like I am doing something right with my life. It's also the most rewarding feeling putting all of yourself for everyone to judge and realizing that you don't really have to worry what one individual person in the crowd thinks of you."
She added, "And through being someone else, you, in a way become entirely just yourself. It's like describing the color blue to someone. People have been known to get addicted to performing, and I have to say that I caught the bug a long time ago!"
She succeeded with the help and encouragement from classmates and Logan Carter, an experienced actress from the Denver-based children's performing called "Kidskits," who is AHS' theatre teacher.
"Theatre is about expression and about telling the story of the human condition and this goes beyond academics," Carter said. "Therefore, I believe students are drawn to theatre because it makes them feel alive to bond with other people on a deeper level, and to learn how to walk in someone else's shoes."
Carter added, "Students also grow through collaboration and teamwork and these are skills that one has to learn to master in any theatre setting. Ultimately, theatre is about learning how to be a better person."
Throughout Higbie's acting career, she has looked up to so many accomplished actresses. Those include Anne Hathaway, who also attended the American Academy of Dramatic Arts.
In the future, Higbie plans to see where acting takes her.
" I really hope to be able to do a little of everything," she said. "This would range from commercials, theater, and short films and hopefully in my most happy of dreams in a feature length film and going back to Broadway."
"But these are not my expectations," she added. "But I do expect to work hard everyday and do what I love."
About the Contributor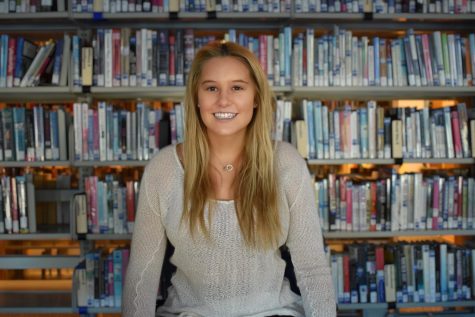 Madison Osberger-Low, Sports Editor
Madison Osberger-Low is a senior at AHS and the Sports Editor for the Skier Scribbler. This is her fourth year writing for the paper and she hopes to...