Miley Cyrus Introduces "Her Dead Petz"
   After Miley Cyrus's release of her studio album "Bangerz" in 2013 followed by her worldwide tour, the world seemed to wonder if she could go more insane.  This question was answered on August 30, 2015.  At the most recent Video Music Awards, hosted by Miley Cyrus herself, she shocked the audience with the release of a new home studio album, "Miley Cyrus and Her Dead Petz".  It is being streamed for free on the online music app, Soundcloud.  This new album features twenty three new singles inspired by drugs, sex, and of course, her very own dead pets.  Obviously, these play a part in the trippy and strange aura of the album.  The explicit lyrics and meanings behind each song are worrisome because of how young many of Miley's listeners are.
The album was co-written by the lead singer of the Flaming Lips, Wayne Coyne, Miley's mentor and dear friend.  He is said to be inspired and in love by what she has done with this new album and herself.  "Miley Cyrus and Her Dead Petz" is a completely new genre, if there really even is a genre to call it, for Miley.  She uses noises and screeches throughout each song, sings rock ballads, jams to edgy pop songs, and shows us all the new side of Miley.  In fact, this album is so far out of the norm in any genre of music that it is hard to critique.  Really, it is just a good listen to be thoroughly confused and curious as to how music has gotten to this odd point.
A stand out song is a ballad in tribute to Miley's late pet blowfish, Pablow.  "Pablow the Blowfish" gives the listener a chance to dive deeper into Miley's true persona , by understanding her love for her recently deceased fish, as weird as that may be.  Another being, "BB Talk" where she talks in conversation nearly the whole track, about why she hates guys who are "gooey".
"Yeah I smoke pot, yeah I love peace," Miley continuously says on the first track of the album, "Dooo It", giving us an insight as to what Miley believes in; she supports Marijuana usage and peace.
   The album is so clearly a project this young superstar put together on her own time, not hoping to make any revenue out of it, but instead to share her passions and beliefs through music.  We can all only wonder what will come out of the next musical adventure she will take us on.  For now, get yourself a Soundcloud and take a listen to "Miley Cyrus and Her Dead Petz" to see how weird things have really gotten.
Leave a Comment
About the Contributor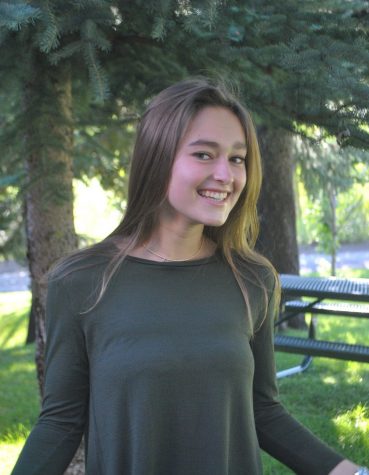 Carson Friedland, Design Editor
Carson Friedland is a staff writer for the Skier Scribbler. She is graduating in the class of 2017.  This is her third year in the journalism class,...