Harvest Cafe Brings New Food to AHS
   The Harvest Cafe is our new, fresh, and healthy cafeteria food that has been brought to AHS this school year.  The cafeteria is now run by chef Tenille Folk, an Australian chef, who has travelled the world with her food, worked under professional chefs in local five star restaurants, and run the school cafeterias in the elementary and middle school since 2011.  Harvest Cafe brings locally grown foods to our high school to provide us all with an understanding of eating delicious and healthy meals at the same time.
   "My goal is to give the students good food that you can all learn and grow with your busy school lives and to fuel healthy bodies," Folk said.  "The relationship children have with food will evolve into a circle benefiting not just themselves, but society as a whole."
   The cafeteria sells breakfast and lunch.  Breakfast includes breakfast bagels, cinnamon rolls, an assortment of drinks, and a couple other options.  For lunch, the menu changes daily, but Folk always offers a free salad bar, sandwiches, and the salads to-go, a very popular choice.  There are cookies and brownies for sale daily.
   "There is a really delicious breakfast cookie full of chocolate chips, craisins, coconut, oats… super yummy," Folk said.  
   Students in the school knew Chef Jeff, our previous cafeteria chef, was departing at the end of last school year, but still a majority seemed to be in utter shock when the entered they new cafe this year.  There have been some mixed reviews, but day by day the reviews have been getting better.  Some even loved the new food right off of the bat.
   "I love the new food here!  I find it all to be delicious and the people who work here now are so cheerful and happy.  They always seem to have a smile on their face," AHS junior Calli Ferguson said.
   Others are very distraught about the new and different breakfast bagels, but have no fear!  Chef Tenille is working as quickly as she can to make a new ranch/cholula sauce for the beloved breakfast bagels.  As for now, they are nearly the same as last years, except for now there is real cheddar cheese instead of processed American cheese, as well as real butter.  
   Chef Tenille Folk is extremely excited about working at AHS and providing us all with a healthy meal as often as she can.  Stick around for the new breakfast bagel sauce and for now be adventurous and try out the new food.  Keep in mind that Chef Tenille is usually available and loves to get suggestions on how to make this year better in the cafeteria for us all!
Leave a Comment
About the Contributor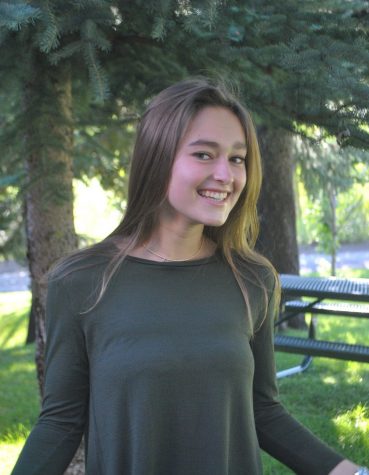 Carson Friedland, Design Editor
Carson Friedland is a staff writer for the Skier Scribbler. She is graduating in the class of 2017.  This is her third year in the journalism class,...