Spirit, Football, and Dancing: Homecoming Week Arrives
This year students had to maintain their school spirit over the span of two weeks for Homecoming.
Starting Thursday, October 1st all the way to Saturday, October 10th, Field Day, Spirit Week, the bonfire, the Homecoming game, and the Homecoming dance occured.  All of the traditions of this annual event were still in place, despite scheduling issues with parent teacher conferences, thanks to the Homecoming Committee run by student senate leader Tameira Wilson.
"We ultimately knew there were only two and a half days for homecoming week, which myself and many administrators did not think was fair to students, so we immediately worked on solving what we could do to make sure that students had a whole week of fun," Wilson said.
Spirit Week
Throughout the years the five days prior to the Homecoming football game have been dedicated to spirit week, where students dress up each five days based on the theme.  Last year, a traditional theme, Twin Day, was not included.  This caused quite the uproar in the school, but no fear, Twin Day has returned this year for the first day of Spirit Week, which took place on October 1st.  The second day this year was Color Day, another tradition in the school. On this day each grade dressed up in the color they were assigned.  Seniors are always assigned black.  The following Monday was School Pride Day, so students sported all their AHS Skier gear!  That afternoon there was also a pep rally in the Skier Dome to get excited for the game.  Tuesday was the always eventful Field Day.  Some dread this day and some dedicate their school year to it, but none-the-less, it has never failed to return year after year. Wednesday, the final day of spirit week, brought forth a new theme this year. Everyone sported some neon colors because Wednesday was 80's Throwback day!
Bonfire
Thursday night there was the annual bonfire across from Paradise in town.  Here, many students and parents of AHS gathered to celebrate the town of Aspen and AHS.  There was dancing, music, and food available!  Usually this event takes place during Spirit Week, but due to complications the date changed to address worries that school spirit would be lost over parent teacher conference days.
Homecoming Game
This year's Homecoming game was played against Coal Ridge High School at 7 p.m., under the Friday night lights. Before the game, Student Senate organized a tailgating event in the middle school parking lot. 
"Last year's Homecoming game was really close and that didn't go our way so we are looking forward to beating them on our turf this year," AHS junior and football player, Kyle Miller said.
Another player, Jake Ferlisi, describes why he cannot wait to play in his senior year
Homecoming game.
"I'm excited to have Nik Morgan, Antolin Carreno, and Noah Ahumada playing, and to have our original starting defense/offense back. Also just to hear our crowd get rowdy," Ferlisi said.
Homecoming Dance
The dance is run and put on each year by the sophomore class, Homecoming Committee, and the sophomore class representatives.  This year's dance took place at the Westin in Snowmass and was Lu'au themed.  Student senate was in charge of choosing the theme and providing a DJ and decorations.  AHS sophomore and student senate member, Francesca Seeman, described how the theme was decided on.
"As for the deciding factors, I posted in our classes' Facebook group to see if anyone had good ideas for themes. We picked the top three or four that got the most likes and all of the sophomores on the Homecoming Committee voted," Seeman said.
The dress code for this year was easy as well. there was no need to worry about going out and buying any specially themed clothing, for leis were provided.
"We encourage students to wear bring colors while still looking formal and dress up, as that will definitely add to the theme, but that is all," Seeman said.
The DJ is left to be a surprise for this year's dance.  A photographer will be present and plenty of other surprises too!  It appears to be shaping up to an overall great Homecoming Week this year for AHS.
Leave a Comment
About the Contributor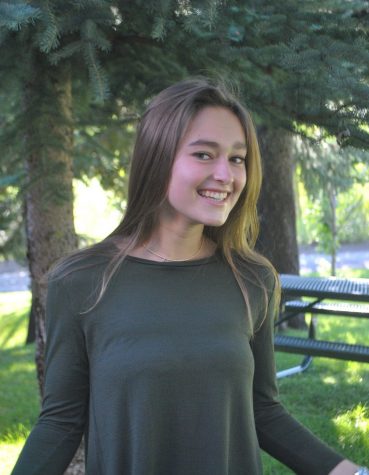 Carson Friedland, Design Editor
Carson Friedland is a staff writer for the Skier Scribbler. She is graduating in the class of 2017.  This is her third year in the journalism class,...