A Beautiful Production About a Beast Presented by A.C.T.
Aspen Community Theater gives AHS students, including Emory Major as one of the main parts, the chance to shine all throughout the month of November at the Aspen District Theater in their newest production, Beauty and the Beast.
ACT aims to bring the community of Aspen together through song, and dance.  People of all ages are performing in this show including two current AHS students Nakiri Gallagher-Cave and Katia Galambos, two from Basalt High School, a former AHS graduate, six AMS students, and teachers, parents, and professionals from all around the valley.  This gives them all a chance to create relationships with one another that otherwise they might not have had the chance to make, and this time through a Disney childhood favorite, Beauty and the Beast.
One AHS student in particular, junior Nakiri Gallagher-Cave, is especially excited about her performance in the show.  She is playing a "Silly Girl" with fellow AHS junior, Katia Galambos.  They are the "ditsy girls" who follow Gaston around.
"I am most excited for everything to come together.  The 'Classic Disney moments' like Belle and the Beast dancing, and "Be Our Guest", and final scene are already so magical, and I cannot wait to have a full set and costumes and orchestra," Gallagher-Cave said.
The theater specializes in really bringing the community together to have a special experience.  People of all ages often do not get the chance to know one another on a personal level and this provides them with the opportunity.
"ACT has been so much fun to work with.  The cast is mostly adults, and it is so inspiring to work with more experienced actors, dancers, and singers.  I have made so many new friends with people of all ages, and I think those lasting relationships are such a wonderful part of theatre," Gallagher-Cave said.
Katia Galambos agreed that the crew is supportive and she is excited about theater and especially this show.
"The cast is incredibly fun and loving.  I can be having the worst day ever, but every time I come to rehearsal I am so welcomed and cared for by everyone," Galambos said.  "I only really feel like myself, when I do theatre.  The cast and crew are such a blessing in my life."
One of the main characters, Gaston, will be played by AHS graduate Emery Major.  This is his last theater production in Aspen before heading to New York for the Broadway Dream Foundation NYC Showcase.  
"I am so excited to be a part of this production. It is such an incredible opportunity to be a part of such a tremendous show like this," Major said.  "This is one of those shows that has everything going for it; there's endless amounts of humor, bright and complicated characters, beautiful music scoring, intelligent dialogue and numerous plot twists. Add that to all the incredible production design Aspen Community Theatre has brought to it and it is absolutely a dream to be a part of, and a show nobody wants to miss."
The set design by Tom Ward is miraculous as well.  It includes a nearly twenty foot high castle with staircases and secret entrances covering almost the entire stage.  There are costumes designed by Colleen Fawley, and a crazy light show from the techie official, Lauren Wilder.
Tickets are already on sale online! Visit aspenshowtix.com and get your tickets today to Aspen Community Theater's Beauty and the Beast! See you there!
Leave a Comment
About the Contributor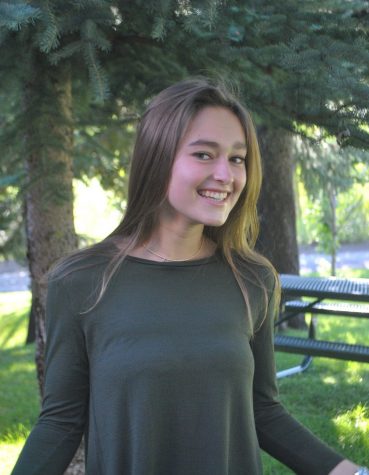 Carson Friedland, Design Editor
Carson Friedland is a staff writer for the Skier Scribbler. She is graduating in the class of 2017.  This is her third year in the journalism class,...