A Meeting of the Generations Through Circle of Friends
By providing different generations a way to come together, the AHS Circle of Friends club gives people who might not otherwise meet, a vehicle for connecting and creating relationships.
Circle of Friends, which is a sub-committee of the Pitkin County Senior Services council, 'facilitates multi-generational events cultivating friendships between all ages in our community,' according to its mission statement.
Almost 40 kids partake in the events this club hosts, including technical assistance, knitting, bingo during Wintersköl, and free dog training. A recent class in the technical assistance program, held on Jan. 6 at the senior center's cafeteria, matched up students with seniors to share information about how to use a computer, tablet, and phone devices.
"Seeing the kids during the technical assistance is really cool as they share friendships and stories and relate to each other. That is a true gift, I am very thankful to be as part of it," Barbara Bloemsma, the Circle of Friends administrator for Pitkin County, said.
Along with technical assistance events, the club also hosts a bingo night coordinated during Aspen Wintersköl.
"That takes lots of planning and help from all 40 club members. It will be held on Jan. 17, from 2-4 p.m., but we need lots of help planning, asking for prize donations, and coordinating right now," senior Hannah Clauss, a student leader for Circle of Friends, said.
Clauss also added that having young adults and senior citizens connect over a course of many activities like the technical assistance class, bingo night, and knitting club are beneficial for both of the generations.
Sophomore Livvy Clauss is also a member of Circle of Friends. She recalled how popular bingo night was last year during Wintersköl when many cool and interesting prizes were donated for the event.
Livvy Clauss donated time during the summer to promote the Circle of Friends club at the Pitkin County Senior Services booth during the Aspen Saturday Farmer's Market.
Right now though, the entire club is preparing for the Wintersköl bingo event, which Hannah Clauss said is one of the many worthwhile events organized by Circle of Friends.
"Everyone learns something new and meets amazing people. Plus, there is always food!" Hannah Clauss said.
About the Writer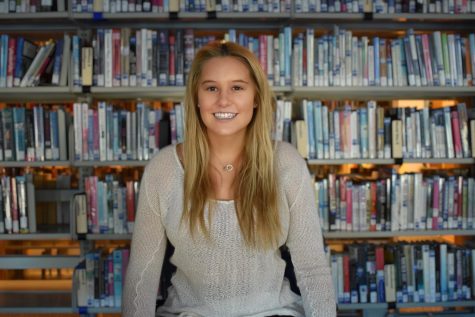 Madison Osberger-Low, Sports Editor
Madison Osberger-Low is a senior at AHS and the Sports Editor for the Skier Scribbler. This is her fourth year writing for the paper and she hopes to...