AHS's Model UN Takes on NYC Food
When Model UN comes up as a topic of discussion at the lunch table, many of the students who are not members of the club groan at the endless stories they are about to hear from those in the club.  Aside from the education on how the UN works, extensive club research and papers, and cultural growth, they do not realize that they are missing the most underrated part of the club . . . the food in New York City.  AHS's Model UN club returned from NYC on March 6th baring hundreds of delicious foodagrams (food photos), adequate knowledge about the actual Model UN event, and dozens of stories of their city adventures.  
The arrival of fifteen students in NYC was an exciting one, for they all knew what was in store and the only thing that seemed to matter was the endless amount of food in their future week.  Thus began the hunt for delectable tastes, hole in the wall pizza places, trending ice cream and cupcake shops, family style Italian, and many more of New York's food gems.   
The initial adventure began Monday evening as the club set out for Harlem for some BBQ.  Along the way, subways stops were mixed up, returning the students to midtown where they found a large Italian style restaurant called Carmine's.  There, the fifteen students devoured platters of pastas and salads meant for full sized families.  They then made their next stop, already full and about to burst with food, at the famous Serendipity 3, home to the Guinness World Record famous ice cream sundaes.  
Throughout the next week the students went from region to region of the city looking for the food gold mines.  One student, AHS sophomore Jordan Fox, laughed as she described her eating experience in NYC.
"We based our entire days and nights in the city around food and meals," Fox said.  "I feel like I may have spent more money on food this week than I have ever spent on clothes."
Another Model UN member, AHS junior Mackenzie Miller, described her amazing experience at Bubby's in the Meatpacking District.  Bubby's is known for their brunches and mouthwatering biscuits.  
"My favorite meal in New York was from Bubby's.  It was the double decker, three cheese grilled cheese, topped with avocado.  Nothing is better than that," Miller said.  
One student came to the city with a single food mission in mind: Dim Sum.  AHS junior Ethan Burkley had his heart set on eating NYC Dim Sum and hassled the other students until this was complete.  After posing for photos in front of the Trump Tower, Burkley proudly lead the entire Model UN group to a Dim Sum place nearby and it completely lived up to his expectations.  
The teachers/chaperones even participated in the food adventures.  AHS history teachers David Fregly and Scott Reed found themselves travelling all the way out to Brooklyn for a slice of the legendary Brooklyn pizza.  They also indulged in Middle Eastern cuisine.
From fancy ramen to french toast all the way to a giant bowl of mussels, the Model UN club ate their way through a week in NYC and returned with packs on packs of Momofuku's famous birthday cake truffles.  This trip came off as a food eater's guide to complete success.
Leave a Comment
About the Contributor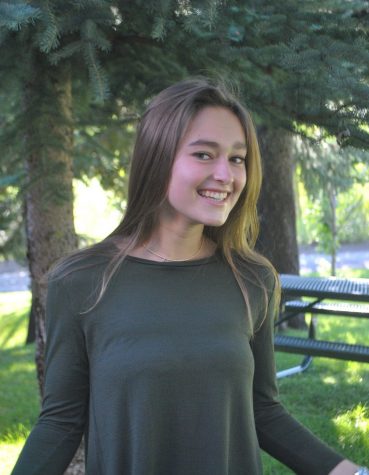 Carson Friedland, Design Editor
Carson Friedland is a staff writer for the Skier Scribbler. She is graduating in the class of 2017.  This is her third year in the journalism class,...