The Road to Success on Snow
Galena Wardle has sacrificed a normal high school experience to pursue her ski racing dreams, and she is now moving a step closer to racing on the World Cup circuit and the 2018 Winter Olympics in Korea. Wardle, 17, is the new national champion in Alpine combined, a discipline that includes one run each of super G and of slalom.Wardle competed against the country's best girls over the age of 16, which ranged from regional athletes to World Cup-level skiers. Based on her strong results, Wardle will return next year to again compete on the U.S.Ski Team.
Wardle's success is a result of her commitment, perseverance and hard work, according to Walt Evans, the excellence director for Aspen Valley Ski and Snowboard Club. This was a breakthrough season for Galena, which started with the World Juniors in Europe and continued during March at the NorAm Cup races in Aspen, he said.
"This strong finish to the season caught the eye of the U.S Ski Team coaches and they are moving her up in her team status so she can train and compete with a very talented and emerging group of junior women,'' said Evans.
Wardle started at AHS but moved to Park City, Utah to join the National Training Group 2 years ago. She graduates this year from the USSA Team Academy.
"I do miss attending Aspen High School with my friends and being in a normal school environment, there are 4 seniors in my graduating class so it's much different at Aspen High School because there was so much going on," said Wardle.
Friends at AHS, like senior Nikki Blizzard who skied with Galena at AVSC for 10 years  remember her as always the fastest on the hill.
"Galena and I have skied together for as long as I can remember. I would always watch her race down the course and think to myself , 'wow how could anyone be that fast?' Said Blizzard. She has always been an amazing ski racer and she deserves everything that comes her way. I am proud to call her my best friend.''
Even though Wardle leaves behind her family and close friends in Aspen, traveling and bonding with her teammates from the academy at her new home makes the early mornings worth it.
"It is tough to live far away from home, but we are actually on the road almost all the time from December to March, traveling to races, but it's really fun to experience all the new places with my teammates," said Wardle.
About the Writer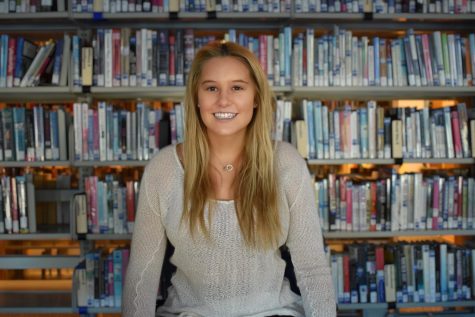 Madison Osberger-Low, Sports Editor
Madison Osberger-Low is a senior at AHS and the Sports Editor for the Skier Scribbler. This is her fourth year writing for the paper and she hopes to...