A Spiking Challenge
The right side of Wagner Park filled up with Aspen High School graduates, current seniors, and current juniors during a sunshower Sunday to put their spiking skills to the test with a Spikeball tournament.  The new sport dominating college fields and city parks recently leaked its way into the town of Aspen and even into the Aspen High School commons.  
Spikeball is a simple sport to carry in the back of a car.  All it requires is a Spikeball bounce net (that looks like a small trampoline) and a yellow ball that comes with the set.  Two teams of two line up on either side of the net and spike the ball at the net for a serve.  From there has the same rules as volleyball; rally the ball for three hits, and then spike it back onto the trampoline.
Over the past summer, Spikeball became a casual afternoon activity when the sun shined and there was nothing else to do.  As the school year began, Spikeball was turned into a tournament, led and created by senior Jack Chase.  He first learned how to play from last year's seniors and wanted to bring the sport into his own grade so that they could continue enjoying it.  Chase decided it would be a great way to spend time with classmates in a healthy and active way.
"I was trying to find kids in our grade to play Spikeball with now that all the kids who first knew are leaving," Chase said.  "I set up the tournament because I thought it would be a great way to have some bonding time with our school.  It started off small, but then tons of kids wanted to come which was great.  We had a huge turnout."
Chase genuinely loves the sport and wants everyone else to start enjoying it as much as he does.  He finds it to be a helpful hobby when the homework gets to be too much.    
"It is a really energetic game, and you move around a lot.  It can also be super relaxing," Chase said.  
It got so competitive that an actual bracket had to be set up.  The theme was "World Cup" and each team had to choose a country that was then placed into the bracket.  The final round was very intense as France players, graduate Jack Rosenthal and junior Preston Mottier, exemplified good teamwork and the Bahamas players seniors, Matt Lambert and Sari Behr, spiked excellent serves.  
"I just got my head in the game and spiked some balls," Behr said.  "I enjoy Spikeball because it is a very unique game that always keeps you on your feet.  It is a fun game and it is easy to learn and you can play it outside with all of your friends."
The other champion was extremely excited to have won the tournament and in a way was almost honored.  He laughed when asked about he felt, showing the relaxation and enjoyment that came out of the day.
"It was a great day not only for us as victors, but also for the other teams, bringing AHS together in such a productive and fun way," Lambert said.  
Next time you have nothing to do during a break at school or on a sunny Sunday afternoon, see if anyone you know has a Spikeball net and ball and head to the park to begin your own Spikeball adventure.  
Leave a Comment
About the Writer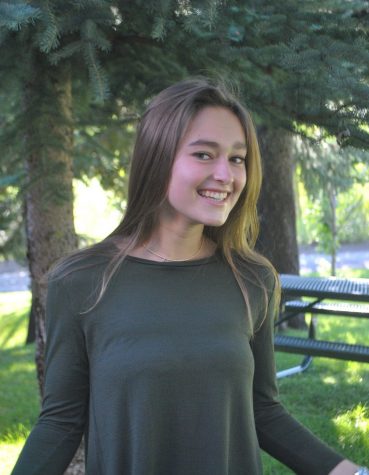 Carson Friedland, Design Editor
Carson Friedland is a staff writer for the Skier Scribbler. She is graduating in the class of 2017.  This is her third year in the journalism class,...