Zella Day
On the quiet Wednesday night of Aug. 30, a complete throwback to the 1960's and 70's entered the town of Aspen to share her musical gifts with the world; Zella Day entertained a full crowd at Belly Up with her aesthetically pleasing vocals and music.  Zella Day is a 21 year old, native Arizonan, alternative rock artist who had her major break during Coachella this past spring.  Since then, she has travelled the nation on tour with Miike Snow and other famous alternative artists.  
At the raw age of 21 her talent was hard to miss.  Not only were the vocals spectacular and unique, but the artist is obviously emotionally moved and attached to her music.  It was like watching a modern day, young Stevie Nicks in the making.  She did not wear shoes and adorned herself in head to toe seventies attire.  Zella Day is not a fan of technology and often asked her audience to enjoy the moments as if it was the seventies again.
Multiple AHS students were in attendance at her show.  They went in thinking they were going to see an average, alternative rock show, but came out moved by the soul and simply wonderful, catchy music they witnessed.  
"Zella Day was hands down one of the best performers I have ever seen," AHS senior Ella Horn said.  "She took off her shoes, unbuttoned her pants, and made the crowd feel like we were all her best friends with her carefree persona.  Each song flowed into the next so easily with the perfect amount of conversation in between with her and the audience."
Her persona did stand out.  It was like taking a time machine into the past and feeling as if it was the seventies all over again.  Each song held within true emotion and was obviously written from the heart.  Zella Day would cry, smile, and laugh throughout each piece.  She played the electric guitar, acoustic guitar, danced, and sang her heart out.  The show was a pleasure to be a part of and made the crowd feel the emotions with her.  Her songs teach good lessons too.  She is an inspiration.
"Zella Day should be a role model to everyone because of her individuality and unbelieveable talent," AHS junior, Carter Cheo said.
At one point, Zella Day took herself off of the stage and stood in the middle of the crowd to "emotionally connect" with the audience.  She sang her recent hit "Compass" while caressing people in the crowd's faces, playing with their hair, singing into their eyes, dancing with individuals, and making everyone she looked at smile and cry.  
"It was one of the most amazing and personal concerts I have ever seen," AHS senior Olivia Oksenhorn said.  "Even though I did not know her music going into the night, I had so much fun because she was such a personable and cool performer.  It was probably one of the best concert moments ever when she came right next to us in the crowd."  
Leave a Comment
About the Writer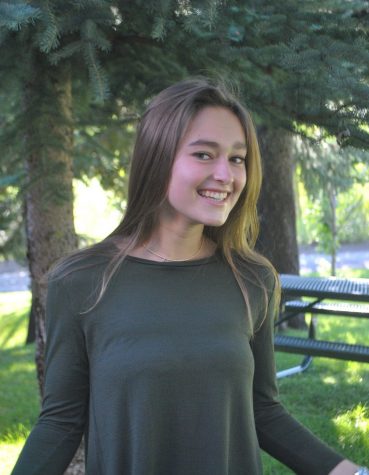 Carson Friedland, Design Editor
Carson Friedland is a staff writer for the Skier Scribbler. She is graduating in the class of 2017.  This is her third year in the journalism class,...