High Temperatures and High Expectations
ASPEN- While warm and dry conditions in October and early November have been concerning to the local ski area operators, AHS student athletes who compete in snow sports aren't letting the conditions slow them down. Local skiers and snowboarders say that they are adapting by doing more work in the gym and traveling to places where there is snow on the ground.
"The plan was to train this upcoming weekend on Highlands, but with the weather being so warm recently it's probably not going to happen,'' said senior Anna Patterson, an alpine racer with Aspen Valley Ski & Snowboard Club.
Two years ago, AVSC finished installing snowmaking equipment on Golden Horn and Thunderbowl on Aspen Highlands, which allowed the club to make piles of early season snow and train locally by mid-November. But this year, the weather hasn't cooperated and the trails are now mostly grass and mud.
Eric Knight, the director of AVSC's freestyle and freeride program, said this week, "If we don't start blowing snow at Highlands very soon, we'll be going over to Summit County a bunch to get our athletes who have early season competitions ready."
Within a month, some of the ski competitions and races will begin, so it is crucial for the athletes to get on snow as soon as they can. Copper Mountain, which won't be open to the public until Nov. 18, has allowed alpine teams including AVSC, to use several of its trails for race training.
"I really like starting early on snow because it feels great getting my feet back under me and getting a feel for my skis again," said Mariel Gorsuch, a junior at AHS and AVSC member.
The alpine team has trained at Copper for the past three weekends on mostly man-made snow, though on Nov. 5, some natural snow fell from the skies as well. A-Basin, which is the only area in Colorado now open to the general public, has room for free skiing and riding, but no organized training lanes.
While waiting for the weather to improve here, the local athletes have been putting in extra time off skis to get stronger for when the big snowfall finally comes.
"We've been doing a lot of dryland and we are trying to get an extra weekend of skiing in at Copper this upcoming weekend as well,'' Patterson said.
About the Writer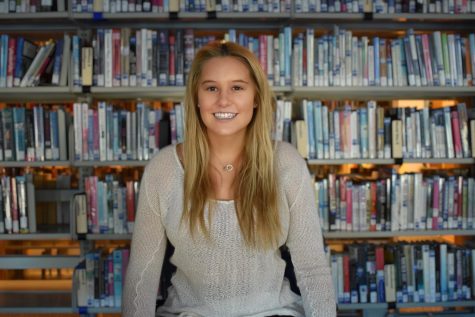 Madison Osberger-Low, Sports Editor
Madison Osberger-Low is a senior at AHS and the Sports Editor for the Skier Scribbler. This is her fourth year writing for the paper and she hopes to...