'Don't Smile at Me' by Billie Eilish is Your Next Obsession
Hang on for a minute...we're trying to find some more stories you might like.
If you want to add another incredible artist to your playlist, 15-year old Billie Eilish is your next obsession. Back in 2016, Eilish posted a song called 'Ocean Eyes' onto SoundCloud. This song was actually meant for her dance teacher to choreograph too, but the song soon went viral and she quickly rose to fame. Her brother, Finneas O'Connell, then started producing and writing most of Eilish's songs. Eilish, a Los Angeles native, is now taking the music industry by storm. Her debut album Don't Smile at Me came out this past August and within the first week, it reached the top 20 on the Billboard Hot 100. Her album is one of a kind and doesn't sound like many other artists. It is sultry and dark with a grunge feel. It doesn't fall into a specific genre and the unexpected maturity of Eilish's voice wraps the album together.
In the first track of the EP "Copy Cat", Eilish talks about being tired of people stealing her style and who she is. She reflects on the annoyance and pain she faces when people copy her unique look. Each song also has a different story and meaning. Emma Dominguez, a sophomore at AHS, believes that Eilish's unique style is what makes her different from other artists.
"I think that Billie Eilish's lyric choices are super original and each song she has written has this dark vibe about it. She tells these stories through her songs and the way she does it is incredibly unique," Dominguez said.
Eilish's voice molds perfectly with the songs she sings and is awfully mature for her age. Her lyrics are so artistic and innovative that they often come out sadistic. The intensity of her lyrics make her listeners think that she is much older than she is. Dominguez believes that Eilish's song choices make her a stronger artist.
"One of my favorite songs is called 'Watch' and the lyrics are so powerful. She is singing about a terrible relationship and a breakup that she has been through. I think the song is very relatable for teenage relationships. A lot of the her songs are super twisted and a lot of people are scared to say those sorts of things. It's very awesome to see a 15-year old girl breaking borders in the music industry," Dominguez said.
Eilish's genre is very fluid. Her distinct word choice shows the stories she wants to convey. Anyone who listens to her should take into account the deep meaning of anything she sings. Layla Leibell, a freshman at Basalt High School, adores Billie Eilish.
"It is so inspiring to see someone that is close to my age doing what she is doing. She is incredibly brave and talented to be this far in her career already. I look up to her a lot and she inspires me to want to be just as successful," Leibell said.
Take a listen to the album: https://soundcloud.com/billieeilish/sets/dont-smile-at-me 

About the Writer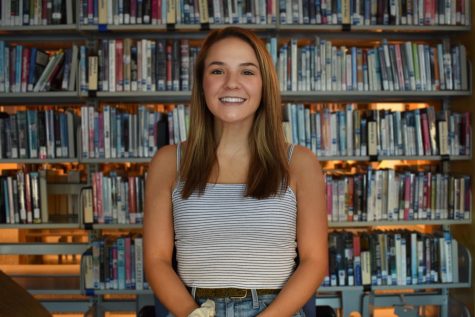 Bella Hoffman, Staff Writer
Bella is a junior at AHS and this is her second year as a staff writer for the Skier Scribbler. Bella is also apart of the AHS Dance Team and spends her...