Friday Night Tykes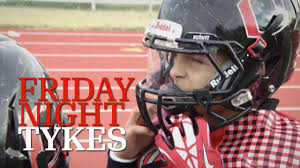 Advertisement
Hang on for a minute...we're trying to find some more stories you might like.
All youth sports fans, football fanatics, or even people who love the state of Texas; today is your lucky day. About a week ago, MTV's Friday Night Tykes came out with their fourth and most popular season yet.
Friday Night Tykes is a youth football documentary that follows some of the best Pee-Wee football teams and players across the country, allowing viewers to get an inside look at the lives of future college and professional football players. They compete in the most competitive youth league in the country, which is owned and run by the famous rapper, Snoop Dogg.
Friday Night Tykes gives a perspective on how kids in Texas train, practice and prepare themselves for higher level football. Also, it portrays the lifestyles of kids who are promising athletes but don't grow up with the privileges that many kids have.
Mac Lampe, AHS Sophomore, is a huge San Antonio Outlaws fan, a popular team from the show, and has high hopes for the team to win a national title this year.
"I have been obsessed with Friday Night Tykes since I started the first season. I have never seen a show that is so crazy and exciting. When I first started watching it, I never really thought much about the teams or players, but now that I have seen them play for the past few seasons that have been televised, I have so much respect for the kids, coaches and the organization itself," Lampe said. "I'm personally a big fan of the San Antonio Outlaws running back, Myzel Miller. I can't wait to see how he does in a league with much bigger and talented kids.
Out of over 200 teams, 60% of the 12-year-olds that play in the Snoop League have already started playing with 8th-grade teams, and even practicing with high school players. A lot of kids are over six feet tall and 150 pounds. Some of the hits passes, runs and blocks are almost at the level of high school football programs. These kids are trained to be next level football players, who have dreams to play at Division 1 colleges and even in the NFL. Nick Mitchell has watched the show ever since it came out, and can't believe the amount of time that kids put into the sport.
"I have never seen kids work and train so hard to achieve their goals. Half of the players in the Snoop League are bigger than me and I'm 16 years old. My favorite player in Friday Night Tykes has to be Tadion Lott. He's significantly smaller than everyone else, but is the fastest kid I have ever seen," Mitchell said. "I can't even imagine seeing these kids play in person. I hope to see a lot of the main kids in the show grow up and play college football." Friday Night Tykes is more than a TV show: it's a lifestyle.