The New Camouflage Trend: Where is Everyone?
Advertisement
Hang on for a minute...we're trying to find some more stories you might like.
SATIRE — The camouflage trend is causing mass panic as people around the world are going missing. Nowadays, people wear camo as a fashion statement, but the real question is: is it fashionable if you can't see them?
The trend is growing increasingly popular, but the people who take part in it are experiencing some dangerous side effects. If someone shows up to school wearing camo, they get marked as absent. Even worse, when camo-wearers try to talk their friends, everyone gets scared that there is a ghost and runs away screaming.
Mark Me-Absent is a freshman at AHS, and his favorite design to wear is camouflage.
"It's all about the look. Camo is cool". Me-Absent said
Even famous celebrities have caught onto the trend. Kyla Jenna, a famous model with a dramatic family, is one of the biggest camo-fanatics in the USA. She even patented different colors of camo, such as orange and red. Too bad no one can see it (just like no one saw her pregnancy coming)!
"I love camo, although it is like really hard. One time I showed up to one of my friend's parties wearing like these loose camouflage pants, and everyone was pointing at me and asking where my legs were and it like, really hurt," Jenna said in an interview with the Washingmedia Post.
Kids all around the world appear to not have arms, legs, or hair when they wear camouflage. The US military appears aggravated with the fad, as that was their thing and now everyone is stealing it.
"Camouflage is a serious part of the army. It helps us to become invisible to enemy troops. This trend needs to stop!", Major Smith said.
Although prevention will be difficult, it is possible. Jane Stevenson, an activist supporting the outlawing of camo, attempted putting up signs around the AHS campus but failed when the pictures of camouflage on the posters made them disappear. If you hear a voice coming from nowhere or you see a floating head, tell them to take it off.

About the Writer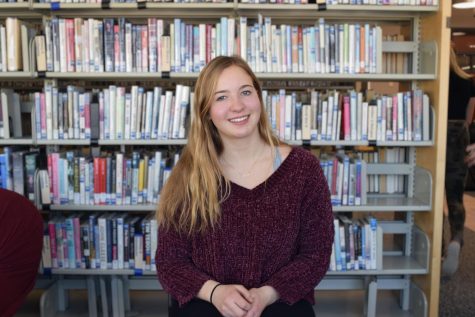 Kaelyn Kroeger, Staff Writer
Kaelyn Kroeger is a sophomore at AHS and a Staff Writer for the Skier Scribbler. This is her second year as a journalist and at AHS and recently moved...