AHS Graduate Racing Towards Recovery
Hang on for a minute...we're trying to find some more stories you might like.
While most AHS graduates have studied at a college or been hired for a job, Galena Wardle, a 2016 graduate, has already started her career as a ski racer on the U.S. Ski Team. Last March, Wardle suffered a terrible crash that led to an ACL injury, but she has still been on the sidelines supporting the team and keeping busy as a University of Denver student.
"It's definitely tough not being able to ski, but I'm making the most of my time in the gym, getting my strength back and rehabbing my knee," Wardle said. "It's a slow process but I'm working hard to be back on snow as soon as possible.".
Knee injuries are common in ski racing and several favorites on the World Cup tour were kept home from competing in PyeongChang, Korea. That list includes Steve Nyman and Travis Ganong of the U.S. Ski Team and promising Swiss skier Melanie Meillard.
One of Wardle's teammates, Nellie Talbot of Vail, is also recovering from a knee injury. Talbot recently stated that Wardle has kept her positive spirit and good energy despite having a severe knee injury and not being able to participate in events.
"Galena has adapted by spending her recovery time working on her education which is very courageous and hard for an athlete to do," Talbot said. "Yet she still cheers us on and supports us every day.".
Many of Wardle's colleagues are racing in the Winter Olympics and, from her Colorado home, plans to root them on to victory.

About the Writer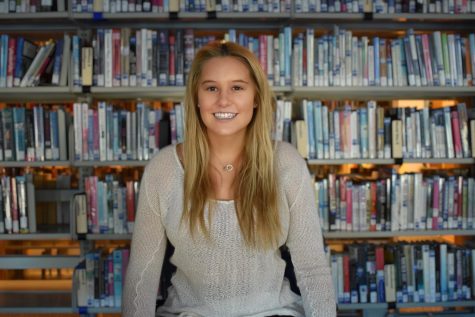 Madison Osberger-Low, Sports Editor
Madison Osberger-Low is a senior at AHS and the Sports Editor for the Skier Scribbler. This is her fourth year writing for the paper and she hopes to...