Students taking a stand against shootings
The definition of a mass shooting is when an active shooter injures or kills four or more people. Between 1999 and 2012 America saw 31 school shootings. Just in 2018 alone there has been 19 mass school shootings and 45 mass shootings combined.
On April 20 in 1999, one of the most recognized school shootings happened in Columbine, Colorado. This past Valentine's day, February 14, a shooter entered Marjory Stoneman Douglas High School in Florida and killed 17 people, staff members and students combined. After the shooting, many students from across the nation have begun advocating for stricter gun regulations. There have been a few different nation wide walkouts organized over the next few months.Walkouts are when students leave school at a set time and don't return or return after a certain amount of time. The point of these walk outs are to call attention to the lack of gun control in America, and many students have said that they won't return to school until stricter gun laws are put in place.
The first walk out is scheduled for March 14, marking the one month anniversary of the Florida shooting. With support from the Women's March organizers, students have brought their ideas to life. Students and staff will leave school at 10 a.m. local time and will not return back to school for 17 minutes to honor the 17 lives lost in the Florida shooting. AMS will be hosting a march for their 5th-7th graders on March 14 and will be walking down to Highway 82.
Cameron Kaskey, a junior who goes to Marjory Stoneman Douglas High School, has teamed up with his fellow students after the shooting and is taking a stand against the N.R.A. (National Rifle Association) and the gun regulations in America. Kasky is also a founder of the #NeverAgain movement on Twitter, which calls out lawmakers to introduce stricter gun laws and background checks for people who are looking to buy a gun.
"My message for the people in office is: You're either with us or against us," Kasky said in a CNN interview after the Florida shooting, "We are losing our lives while the adults are playing around." Kasky has also spoken with senators after the shooting and advocates against the N.R.A. "Senator Rubio, can you tell me right now that you will not accept a single donation from the N.R.A.?" When Rubio averted the question, Kasky brought the attention back to his initial question, calling out the Florida senator.
The second protest is on March 24. Students have organized a march in Washington D.C. and are calling it the "March for Our Lives". Like the walkout on March 14, the purpose is to call attention to gun laws and raise awareness about mental health help for students.
The third protest will take place 19 years after the Columbine shooting, on April 20, students across the nation will be walking out of school and not returning until congress places stricter gun laws and provides better mental health services for troubled students. No time is scheduled yet, and new announcements are being made on the National School Walkout Twitter (@schoolwalkoutus).
Local student senate is organizing for AHS to participate in the walkouts that are happening. So far, the plan for AHS on April 20th is to have students who are participating walk into town in protest. Students who choose to participate will walk out at 10 a.m. Student Senate is also doing a handwritten letter campaign.
The walkouts will happen across the nation, but was originally called for by Lane Murdock, who lives about 20 minutes away from Sandy Hook Elementary school. She was inspired by civil rights demonstrations in the 1960s and Mahatma Gandhi's protests. Murdock is 15 and attends Ridgefield High School in Connecticut. For her school, the Florida shooting event was announced over the loudspeaker.
"People were talking during the announcement," Murdock said in an interview with the Hartford Courant, "We were numb because this is so normal."
After the shooting, Murdock wrote and uploaded a petition to change.org that now has almost 250,000 signatures. Murdock is also a founder of the National School Walkout Twitter, which offers schools an opportunity to register their walkouts. A multitude of other schools have formed their own walkouts throughout the next few months. They all have one major thing in common: They are advocating for stricter gun laws.
Emma Gonzalez, a student from the recent Florida shooting, has become a well known advocate for gun control regulations. She is a senior and gave a speech at a gun control rally, three days after the shooting, in front of a Florida courthouse.
"I found out today there's a website shootingtracker.com. Nothing in the title suggests that it is exclusively tracking the USA's shootings and yet does it need to address that?" Gonzalez said in her speech, "Because Australia had one mass shooting in 1999 in Port Arthur, and after the massacre introduced gun safety, and it hasn't had one since. Japan has never had a mass shooting. Canada has had three and the UK had one and they both introduced gun control and yet here we are, with websites dedicated to reporting these tragedies so that they can be formulated into statistics for your convenience."
Walmart, LL Bean, and Dicks Sporting Goods have all changed their gun regulations in response to the movement that is sweeping over the country. The age requirement to buy a gun is now raised in the corporations and Walmart is no longer selling items that resemble assault rifles, including toys and air guns. Dicks Sporting Goods is also not selling high capacity magazines and has raised the age requirement. Different larger companies are now moving to disassociate themselves from the N.R.A., which seems to be just the beginning of the gun control movement.
"You can't stop time," Lane Murdock stated in a tweet, "You can't stop a whole generation from growing up. You can't stop our passion. Or our takeover. You can't stop the movement. You can't stop us."
Leave a Comment
About the Contributor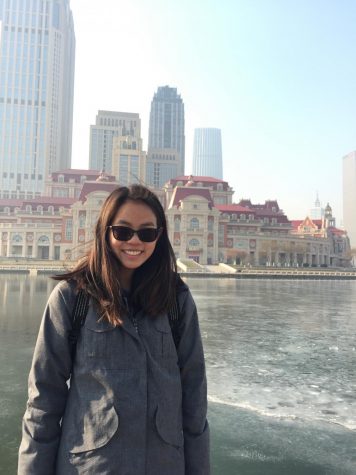 Aja Schiller, News Editor
Aja is currently a senior and has been writing with the Skier Scribbler since she was a freshman. She's spent her quarantine growing new plants, reading,...