Behind the Scenes of AHS's Cinderella
While most AHS students spend their weekends skiing the fresh powder or supporting the hockey team, a commonly overlooked pastime is attending a play or performance. However, for students involved in the performing arts at AHS, their free time outside of school is suffocated by the tremendous commitment to the play. These AHS students performed their musical production of "Cinderella" March 15-18 in the District Theatre.  
An experienced member of the ensemble and senior Simone Lamont helped explain the rendition of the classic fairytale that they performed
"It's similar to the traditional storyline, but it's a lot funnier. The music is classical, but the lines and everything are a lot more modern. I think all the characters are really funny and weird and quirky. We have a lot of good actors and actresses in our show that bring a lot of life to their parts. Me, as part of the ensemble, I can't really say much, but I'm there to make them look good," Lamont said.
Insightful, experienced and enthusiastic sophomore, Layla Goldberg, played the part of Madam, the evil stepmother.
"Rehearsal time depends on how big your role is. So for larger parts like myself, it's almost every day after school for about two hours. Along with this, there is usually dancing rehearsal for about three hours every Saturday" Goldberg said.
Although most of the rehearsal time is spent running through scenes, blocking and lines, the rehearsal process can be quite slow at times.
"So usually I get there, I take Kyle's ukulele, and he has no idea–don't tell him– I use Kyle's ukulele, and I just play it. I just experiment. Then [the directors] tell us what we're going to do that day. So we're going to block this scene, or we are going to dance or sing. We run it, and we have our scripts in hand, and we write down our blocking (which is where we're supposed to go during the scene.) Or we all stand around the piano and sing if it's a singing day," Goldberg said. "Sometimes there's a lot of us standing around and waiting because that's the play process. Sometimes people will do their homework. And that's kind of what it looks like. Once we put it all together, we run the scene through one time to solidify it."
Putting on a production requires a ton of scheduling, organization, and work behind the scenes, most of which goes without recognition. Talented and experienced actress, Taylor Hartsfield filled in and helped out with rehearsal frequently while Logan Carter (the director) was taking care of her newborn son.
"[Taylor Hartsfield's] terrific, very professional. She's very talented, and she's an incredible actress herself. Another large help at rehearsal is Austin. He is the choreographer, and he just graduated from Julliard. He was the Nutcracker in the Nutcracker, so he's very professional. He also just got his major in choreography, so it's very cool and intense to work with him, " Lamont said.  "There's also a whole tech crew. I worked with tech crew last year for Pippin, so I know the whole gang. They don't really come in until tech week, but it's really fun. It's usually the same group [of students], and they're very experienced."
With the recent and fond memories of the play still filling her memory, Goldberg expressed her love for the art, along with giving some life advice.
"I love just being crazy on stage and having the freedom to make fun of yourself and try new things. I just want to preach, if you love it, go full force. Whether it's ukulele, or soccer, or chemistry, I want you to go full force. You're not going to regret it. You need to see what it's like to be fully immersed in what you love. Go full force, that's all I'm saying," Goldberg said.
About the Contributor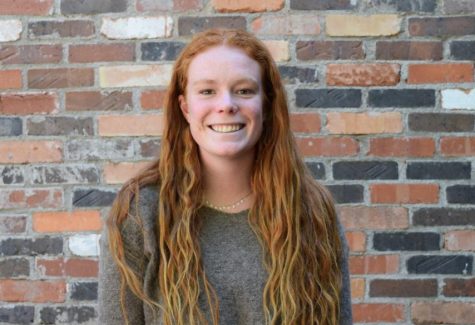 Maeve McGuire, Editor-in-Chief
Maeve is a senior at AHS. This is her third year writing for the Skier Scribbler, now working as Editor-in-Chief. In her free time, she enjoys playing...