March For Our Lives- Denver
"There is not a day that goes by that I don't think about what happened to me here in Colorado – or any of the victims or family of the victims. I plead with my fellow Americans – don't wait for it to happen to you," Weaver, a survivor of the Aurora shooting, said. On July 20, 2012, a shooter walked into a movie theatre in Aurora, Colorado, and killed 12 people. Marcus Weaver recalled his horror from that night and spoke about the impression it has left on his life at the March for our Lives.
On March 24th the March for our Lives, lead, organized and directed entirely by students, took place all across the nation, including Denver. The march was one of the largest protests ever held in Denver, surpassing the 100,000 people at the Women's March in 2017. Protesters marched around downtown Denver, seeking to bring attention to the gun laws and gun violence currently in the US.
In Colorado, on April 20, 1999, 15 students were shot and killed in a shooting at Columbine High School. Tom Mauser, a father whose son was killed in the Columbine shooting, spoke about the effects that horrible experience had on their community.
"After such a tragic event, our whole community came together to grieve and mourn. I felt more connected to my neighbors than I ever had before. However, there was no large call to attention for gun reform or action from politicians. It's amazing to see what the students from Florida have been able to accomplish today, and I believe this is Colorado's delayed reaction from the Columbine and Aurora shootings."
Taylor Cane, a senior at a local Denver high school, also spoke about Colorado's relevance and importance in this discussion.
"It's amazing that we have such a large turnout today, especially with Colorado's history. It's important to remember and never forget the Columbine and Aurora shootings, and this is a perfect opportunity to honor those lives lost. So that's who I'm marching for today," Cane said in her speech.
Cory Gardner, a current Colorado senator's, involvement with the NRA was another significant issue addressed by protestors. A plane flew across the sky with a banner reading, '3.8M from NRA! Who does Cory Gardner work for?'
With no sight of Cory Gardner and no recognition from local politicians, protesters began to chant, "Where is Gardner? Where is Gardner?" and "Vote him out! Vote him out!" Mauser later spoke about many politicians financial involvement with the NRA.
"They [politicians] have nothing on this crowd because they are only fighting for a paycheck- we are fighting for our lives. And today, we're scaring them. However, their fear of losing money doesn't even come close to our fear of being shot," Mauser said.
About the Contributor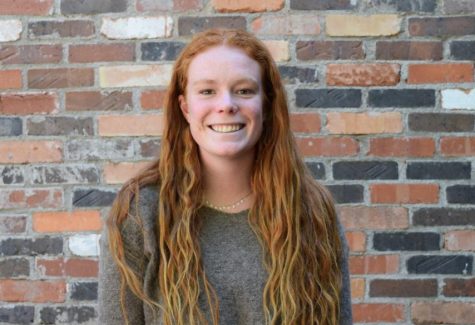 Maeve McGuire, Editor-in-Chief
Maeve is a senior at AHS. This is her third year writing for the Skier Scribbler, now working as Editor-in-Chief. In her free time, she enjoys playing...