Believe In Something, Even If It Means Losing Everything
Nike recently released a new advertisement prompting customers to burn and destroy their Nike products. The ad featured athletes including Serena Williams, Eliud Kipchoge, Alphonso Davies, Lebron James, the US Women's Soccer team, Shaquille Griffin, and Colin Kaepernick. It featured these athletes, and many more, following their dreams, doing the impossible, and fighting for their beliefs with the slogan, "Believe in Something, Even if it Means Losing Everything." The outrage directed at the ad was based on Nike's decision have Colin Kaepernick, the former quarterback for the 49ers, be one of their spokespeople. Kaepernick is also known for sitting during the national anthem to protest racial inequality in America, which Nike appeared to support as part of their campaign. His actions inspired many other athletes, audience members, and even cheerleaders and band members to sit or kneel during the national anthem. The movement caught the attention of many Americans, including President Donald Trump.
Based on a recent Instagram poll taken by AHS students, 11 out of 14 students agreed with Nike's decision to have Kaepernick be their spokesperson.
Wesley Ferrell, a sophomore at AHS and a varsity soccer player does not agree with Nike's decision.
"He (Kaepernick) disrespected the game he was playing, and he disrespected the country he was playing for; he plays for a nation he claims is oppressing him. While his movement is reasonable and correct, this was not the time to express that." Ferrell said.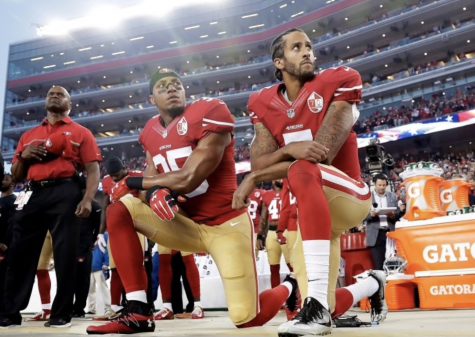 People were so outraged by Nike's decision to support Colin Kaepernick that they burned, threw away, and destroyed their Nike products; many even swore to never purchase any Nike again.
"I think using Colin Kaepernick in the ad was a super bad marketing plan because he's divided the country into two parts; some people support him and some people don't," Ferrell said. "I already burned my shoes. Their ashes are in my fireplace right now." Ferrell said sarcastically.
On Tuesday the 11th, Nike shares were reported to have fallen by three percent due to the ad, but overall have gone up 50% over the course of the year, causing no great damage to the company, according to the Wall Street Journal.
Stella Mcaniff, a freshman at AHS, believes that Nikes ad was a good choice.
"It[kneeling during the National anthem] was good because it got people's attention. The media coverage was helpful to the movement he's trying to promote," Mcaniff said. "People burning Nike gear doesn't really do anything because they already bought the gear. They already gave their money to Nike."
Kaepernick is currently unsigned with the NFL and has accused them of conspiring to prevent him from being signed. The NFL denied his allegations, and there will be a trial later this month, putting Kaepernick in the news once again.